Learn About Redig Funeral Home's Company History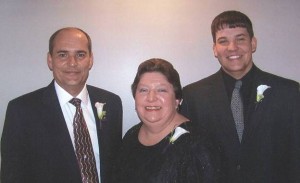 Roger and Pat Redig purchased the Wharton Funeral Home on January 1, 1991. Roger is the son of Melvin and Betty Redig and was born and raised in Storm Lake. He graduated from the Storm Lake High School in 1974. He married Patricia Cowell on June 24, 1978 in Cedar Rapids. Pat is the daughter of George and Joanne Cowell of Storm Lake.
The couple lived in Storm Lake when Roger started working for David Nelson, who owned the Hughes-Nelson Funeral Home. Roger also helped at the Jones Funeral Home in Alta and the Wharton Funeral Home in Aurelia. Roger attended Buena Vista College in Storm Lake and then attended the Worsham Mortuary College in Chicago, IL. Roger then returned to Storm Lake and served his apprenticeship at the Hughes-Nelson
Funeral Home in Storm Lake and the Wharton Funeral Home in Aurelia. He became licensed in 1987. Roger and Pat moved to Ackley, Iowa, where Roger worked for the Brandt-Fritz Funeral Home for fourteen months. George and Florence Wharton decided to retire and sold the Wharton Funeral Home to Roger and Pat.
Roman Redig, son of Roger and Pat, graduated from the Aurelia High School in 2008. He continued his education at Western Iowa Tech Community College, being on the Dean's list. He then attended the Des Moines Area Community College, Department of Mortuary Science, from which he graduated with high honors in 2010. He returned to Aurelia where he served his internship and became fully licensed in 2012. Roman was united in marriage to Shelby Meyer on June 15, 2019.
Wharton Funeral Home History
George R. Wharton VI purchased the furniture and undertaking business from Fred Schroeder. The furniture store was closed in 1938, but he moved the undertaking business into their home at 401 Main Street where the business is still located. George R. Wharton VII joined his father in the business in 1947. The Wharton family met the funeral needs for the community for many years until selling to the Redig's.