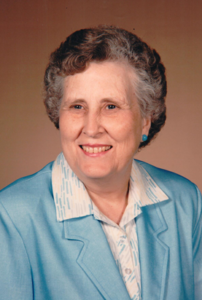 Anita (Guice) Hallquist was born at home in Atlanta, Georgia, on July 18, 1927, the youngest of six children born to James Walter Guice and Pearl (Jailette) Guice. She attended public schools in Atlanta, becoming the first member of her family to finish high school when she graduated from Commercial High School in 1945. She then worked full-time as a secretary for The Travelers Insurance Company for five years while attending Georgia State Evening College. In March 1950 she entered a three-year nursing program at Crawford W. Long Memorial Hospital in Atlanta, graduating in March 1953.
While in nursing school Anita attended a YWCA dance and met Ole Hallquist, who was stationed at the U.S. Army Ordnance Depot in Atlanta. They fell in love and were married on Valentine's Day in 1953. Shortly thereafter, the newlyweds moved to a farm near Aurelia, Iowa. Anita spent the next 14 years working as a nurse at Sioux Valley Memorial Hospital in Cherokee, Iowa. She left nursing to work at the Mental Health Institute in Cherokee, and then returned to school as a full-time student at Buena Vista College for two years, graduating magna cum laude and first in her class with a degree in social services. She was a dedicated employee of the Iowa Department of Human Services for over 20 years, first as a social worker, then a supervisor, and ultimately the Director of the Buena Vista County Department. She served on several boards while working in Buena Vista County, and one of her proudest accomplishments was helping create the Adopt-A-Family program for Thanksgiving and Christmas.
After Anita "retired" at age 65, she continued working for six years for the Buena Vista County Board of Supervisors, handling its mental health budget and doing general relief. She created the Community Services Department to oversee services for individuals living with mental illness. She retired for a second time at age 72.
Anita was the heart of her family, always giving encouragement and never hesitant with advice. She was caring and thoughtful and loved her family, good books, cooking, gardening, Jeopardy, her cat Slick, and her daily devotions with God. She never missed a birthday or holiday for any family member, made sure her grandchildren had lots of cookies and "friendship bread," and always had a strong opinion on the right path forward for those she loved.
Ole and Anita had two sons, Allan (Carol) Hallquist of Kansas City, Missouri, and Todd Hallquist of Ecuador; five grandchildren, Adam (Olivia) Hallquist of San Francisco, California; Matthew Hallquist, deceased; Jacob (Dallas) Hallquist of Memphis, Tennessee; Devin Hallquist of San Diego, California; and Benjamin Hallquist of Ecuador; and three great-grandchildren, Zadie Hallquist, River Hallquist, and Fisher Hallquist.
Anita died Thursday, August 17, 2023 at The Gardens in Cherokee, Iowa.
Anita was predeceased by her husband of 62 years, Ole Hallquist; her parents; her brothers James Roy Guice, Virlyn Joseph Guice, and Alton Faye Guice and sisters Ruby Pearl Haygood and Jessie Mae Smith; and grandson Matthew Hallquist.
In addition to her children, grandchildren, and great-grandchildren, Anita is survived by nieces Sandra Bridges of Tifton, Georgia, and Peggy Guice of Panama City, Florida, nephew Al (Olivia) Guice of Fayetteville, Georgia, and great-nephew Dr. Dale (Linda) Browne of Winston-Salem, North Carolina.
Anita was a member of Mt. Olive Baptist Church in Cherokee for over 60 years. Anita loved the Lord and was looking forward to seeing Him and being reunited with family in Heaven.