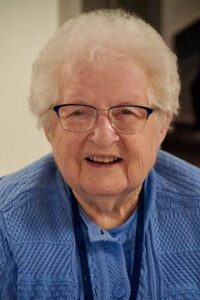 Funeral services for Cynthia "Cyndy" Kaskey, 97, of Aurelia, will be 11:00 Tuesday at the St. Paul Lutheran Church in Aurelia with Pastor Bruce Lesemann officiating. Visitation will be Monday from 5:00 until 7:00 at the Redig Funeral Home in Aurelia. Burial will be in the Ida Grove Cemetery, rural Ida Grove. The Redig Funeral Home in Aurelia is in charge of arrangements.
Cynthia Kaskey, 97, passed away peacefully July 14, 2023, in Aurelia, Iowa.
Cynthia Vermeer was born January 12, 1926, the seventh of eleven children born to Evert and Alida (Borgman) Vermeer. Affectionately referred to as Cynny by her family, she was baptized in the Reformed Church. Raised in Sioux Center, Iowa, Cynthia taught country school briefly after graduating from high school in 1943. She then attended Central College in Pella and later Buena Vista College in Storm Lake, earning a Bachelor of Arts degree in education.
After college, Cynthia taught in Ida Grove, meeting and then marrying Delaine Kolb on June 22, 1949. They farmed near Holstein before moving to a farm north of Aurelia and raising six children. Quite a feat! Cynthia returned to teaching at Aurelia Elementary when her youngest started school.  Teaching beyond the classroom, Cynthia hosted two foreign exchange students, George from Kenya and Pily from Chile.  She also taught the patience her mother showed and more than once said, "If you can't say anything nice, don't say anything at all," "If everyone else jumped off a cliff, would you too?" and "Be thankful for this food; children in China are starving."
After 25 happy years of marriage, Delaine died in 1975, and Cynthia married Gene Kaskey June 22, 1984. She said June 22nd was a good day for her once and it proved to be a good day again.  Gene and Cynthia were married until his death in 2004.
Cynthia loved spending time with her family and was always ready to hold a baby. She was an avid reader and instilled a love of reading in all her children. She read to them about Mr. Nobody, who was responsible for lots of naughty doings, and he soon took up residence with the family, being blamed for oh so many problems in their house, too.
Cynthia's hobbies included piano playing, sewing, golf, flower gardening, cheering on the Cyclones and Hawkeyes, bingo, and playing cards. She wasn't afraid to play for money, and was happy to take everyone's dimes, family included.
One of Cynthia's favorite foods was pizza. She loved having family bring Casey's supreme, proclaiming, "Now that's real pizza," and she seldom turned down a cup of good black coffee. Another love was the color yellow, with more than one kitchen painted the color of sunshine, and she loved traveling. Family vacations left many good memories, and later travels included trips to Alaska, South America, and Europe.
Cynthia was active in church her whole life.  She was part of mission quilting, ladies aid, funeral lunch coordinating, teaching Vacation Bible School, choir, and Sunset Knoll Auxiliary. But most of all, she had an unwavering trust in God through good times and bad.
Cynthia is survived by daughters Linda Romero of Brooklyn, IA, and her children Eva, Amanda, and Edward; Donna (Craig) Hoadley of Sheldon, IA, and their children Kristin, Will, Wade, Erik, and Evan; Merri (Brad) Johnson of Auburn, NE, and their children Guy and Sadie; Sheree (Louie) Hausmann of Cherokee, IA, and their children Hallie and Abby; Rhonda (Doug) Camarigg of Sioux City, IA, and their children Stacey and Jarod; son John (Jill) Kolb of Ames, IA, and their children Delaney, Madelein, and Ian; step-daughters JoAnn (Bill) Dye of Snowflake, AZ, and Kay (Marty) Brown of Omaha, NE, and step-son Dale (Cheryl) Kaskey of Aurelia, IA.  She is also survived by 34 great-grandchildren and two sisters-in-law, Helen Vermeer and Ellen Vermeer.
Cynthia was preceded in death by her parents, husbands Delaine and Gene, and siblings Edna Van Roekel, Aldene Van Roekel, Hester Black, Mildred Schutt, Irwin Vermeer, Loyd Vermeer, Elnor Niffenegger, Wally Vermeer, Ruth Bonnema, and Wayne Vermeer.
Memorial contributions may be made to Orphan Grain Train or Cherokee Regional Hospice.
Arrangements are under the direction of the Redig Funeral Home in Aurelia.