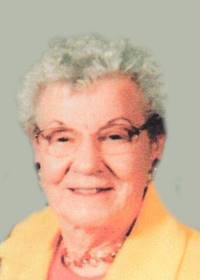 Funeral services for Eleanor V. Bruce, 96, will be held on Thursday, June 15, 2023 at 1:00 P.M. at the First United Methodist Church in Aurelia with Pastor Linda Morris officiating. Burial will be at the Pleasant Hill Cemetery, rural Aurelia. Visitation will be one hour prior to the service at the church, with the family present. The Redig Funeral Home in Aurelia is in charge of arrangements.
Eleanor Viola Geringer was born March 30, 1927 the daughter of Frank William and Eva Mae (Jessup) Geringer at Marcus, IA. She began her education at Marcus Rural #1, then Larrabee, and later at Lincoln Jr. High, graduating from Wilson High School in Cherokee, IA, in the class of 1946. From the age of 15 Eleanor worked for Farmer's Produce in Cherokee until she was 20 when she married. On September 30, 1947 Eleanor married Kenneth Duane Bruce at the Methodist Church in Cherokee. To this union four children were born; Shirley, Sharlotte, Arthur, and Jane. After their marriage they lived in Aurelia and she worked for Sunset Knoll Retirement Home until she retired in the early 1990's.
She enjoyed sewing, especially altering clothing, crocheting, and knitting. She loved to travel. Eleanor was a member of the United Methodist Church in Aurelia, American Legion Auxiliary for more than 50 years, DAV and the VFW. On August 1st 2004 she married Irvin Strand at Emmetsburg, IA. They loved to travel and wintered in Mission, TX, for several years.
Eleanor died Saturday, June 10, 2023 at the Methodist Manor Retirement Community in Storm Lake where she had been a resident since February 12, 2023. She had been a resident at Pleasant View Nursing Home in Albert City for five years until it closed and she was moved to Storm Lake.
Preceding Eleanor in death were her husband Kenneth on November 1, 1978, an infant sister, Olivia Geringer, her parents, three brothers and their wives; Raymond and Marie Geringer, Milton and Ethel Geringer, and Orval and Mildred Geringer, three sisters; Ruth and Alfred Bork, Marie and Irvin Dietz, and Olive and Carl Kolp, and two grandsons; Brian Scott and Kevin Scott.
Survivors include her children and their spouses; Shirley and Douglas Scott of Elk Point, SD, Sharlotte "Shar" and David Aronson of Albert City, IA, Arthur and Sally Bruce of Abilene, TX, Jane and Gary Naslund of Kearney, NE. Also surviving are twelve grandchildren, 21 great-grandchildren, seven great-great-grandchildren, former husband Irvin Strand of Brighton, CO, nieces and nephews and other relatives and friends.