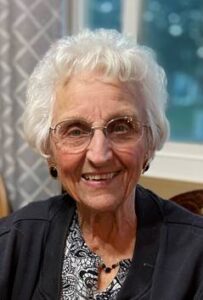 Funeral services for Imagene Galvin, 91, of Aurelia will be 10:30 A.M. Wednesday, May 31, 2023, at the First United Methodist Church in Aurelia with Pastor Linda Morris officiating. Interment will follow at the Pleasant Hill Cemetery, rural Aurelia. Visitation will be Tuesday from 5:00 P.M. until 7:00 P.M., with the family present, at the church.
Imagene (Jeannie) was born on Sept 23, 1931 to parents Frederick and Elma (Sauter) Parrott of Aurelia.  She was the oldest of Fred & Elma's family, later to be joined by brothers Gerald, Dennis and Donald.
Jeannie lived in Aurelia her whole life.  She attended Aurelia Community School, graduating with the Class of 1949.  After graduation she went to work for the Cherokee State Bank in Cherokee, IA.  On May 8, 1952 Jeannie married the love of her life, Donald Dale Galvin.  They settled in the town of Aurelia to raise their family.  From this union they raised three children Nancy, Randy & Rodney.  Jeannie was a stay-at-home mom for a few years and then she started working for the Aurelia Community School as a cook. Within a few years she became the Head Cook at the school. As the saying goes "If you find a job that you love, you will never work a day of your life." Well for Jeannie she loved going to work every school morning preparing and feeding hundreds of children.  Her motto was that no child was going to leave her lunchroom hungry, and they didn't. Jeannie and her co-workers took a lot of pride in serving the best meals for the students at Aurelia Community School.  The one meal that they were known for serving was their chili and cinnamon rolls. If a student or even school personnel ever got on Jeannie's bad side she would let them know it when they emptied their lunch tray with a little "accidental" spray from her spray wand. Jeannie retired in 1997 after serving the Aurelia School system for 33 years.
Jeannie was a very active member of the Aurelia United Methodist Church.  She was involved in UMW, Mary Circle, Sunday School and Bible School, and of course she was very active in the Kitchen activities at the Church.  Some might say she was the Czar of the Kitchen being one of the head organizers of the Church's Annual Harvest Dinner.
Jeannie also worked part-time at Pat's Clover Farm in the deli where she was known for her delicious potato salad. Jeannie also ran the concession stand during the summer at the baseball complex for many years. Jeannie and her sister-in-law Phyllis, with a little help from her brother, Jerry, served for the meal after the Memorial Day services for a few years.
Jeannie loved the Aurelia Community and she gave back to the community in any way she could.  Over the years she was involved in a card club, a Cub Scout leader, Federated Women's Club, Sunset Knoll Auxiliary, American Legion Women Auxiliary, and Cherokee County Retired School Workers.  In 2006 she was named the Commercial Club "Citizen of the Year."
Jeannie was a huge sports fan.  She loved her Bulldogs, Warriors and of course the Wildcats. Jeannie was an avid Iowa Hawkeye fan.  She loved her Black and Gold. If you ever stopped and visited her, there was always some type of sports show or event playing on her TV.  She commented many times that if it wasn't for sports, there wouldn't be anything to watch.
The biggest love of her life was her family, especially her grandsons and great-grandchildren.  She traveled many miles to many activities her grandsons were active in and later her great-grandchildren.  It didn't make a difference if they won or lost, she just wanted to be there to support them.  The last event she attended was a Parrott Family Reunion in Des Moines ending the day with a youth basketball game in which one of her great-grandsons was playing.  Jeannie was 91 at this time and she just wanted to be there.
Imagene (Parrott) Galvin peacefully passed away at the age of 91 at the Accura Health Care Center in Aurelia on May 26, 2023.
Preceding Jeannie in death were her husband Donald on October 10, 1975, son Rodney on May 1, 2020, son-in-law Orlyn Webb on December 7, 2013, her brother Gerald, and her parents and parents-in-law Fred and Elma Parrott and Charles and Lillian Galvin.
Jeannie is survived by her daughter Nancy (Galvin) Webb, Aurelia, her son Randy and his wife Deb Galvin, Early, IA, grandsons Heath and his wife Jenny Galvin and their children Avery, Aiden, and Hunter of Grimes, IA, Timothy and his wife Ashley Galvin and their children Maddox, Kutler and Kolby Jane of Aurelia, and Cody and his wife Jana Galvin and their children Sullivan and Stevie Lee of Aurelia. Brothers, Dennis and his wife Lois Parrott, Osceola, IA, and Donald and his wife Nancy Parrott, Washta, IA, and sister-in-law Phyllis Parrott of Denver, IA, and many brothers and sisters-in-law, nieces and nephews, cousins, and many very good friends.