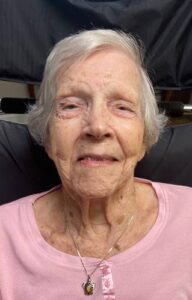 Phyllis Janell Lepas, 91, of Aurelia, formerly of Galva, died on April 21, 2022 at the Cherokee Specialty Care Facility in Cherokee.  There are no services scheduled at this time.  The Redig Funeral Home in Aurelia is in charge of the arrangements.
Janell Duncan was born August 6, 1930, the daughter of Lawrence & Myrna Duncan in Robertson, IL.  Janell married George Lepas. The couple spent most of their married life living in California, moving to Galva, Iowa in 2014.
Preceding Janell in death were her parents, two daughters; Debbie and Pam, and sister, Laurna.
Survivors include her husband George of Aurelia, daughter Sharon, son Ted Lepas, granddaughter Janell, niece Laree and nephew Lamer.  Also her adopted family; the staff at Cherokee Specialty Care in Cherokee where she received loving and compassionate care, and many other relatives and friends.