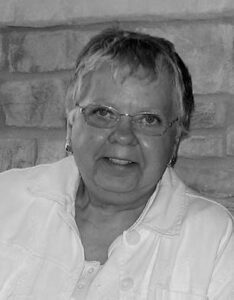 Memorial services for Julia K. Meinking, 79, of Cherokee, formerly of Aurelia, will be held at 11:00 A.M., Tuesday, May 3, 2022, at the St. Paul's United Methodist Church in Cherokee, with Pastor Michael Agnew officiating.  Visitation will be for one hour prior to the service at the church. Inurnment will be at the Oakland Cemetery, rural Peterson.  The Redig Funeral Home in Aurelia is in charge of arrangements.
Julia Kay Meinking was born May 1, 1942, the daughter of Walter and Roberta (Sitz) Meinking in Cherokee, Iowa.  She attended Brooke Consolidated School for her first three years, then continued her education in the Aurelia public school system, graduating from Aurelia High School in 1961. She attended the Humboldt Institute in Minneapolis for a year, then returned to Iowa and found employment as a nurse's aide at the Spencer Hospital.  Following her stint there, she found employment at both the Methodist Manor in Storm Lake and Sunset Knoll Nursing Home in Aurelia.  In 1974 she began working at the Mental Health Institute in Cherokee as a Resident Treatment Worker and remained there until her retirement in 2002.
Julia loved to travel, and explored the country on car trips and bus tours, as well as venturing offshore for a few cruises.  She was an ardent fan of the Iowa Hawkeyes football team, and for over twenty years attended both home and away games, as well as eight bowl appearances. Julia loved reading, golfing, and working on the yard and garden. She loved her 2009 Ford Mustang convertible, driving it to Lake Okoboji, in local parades, and just cruising around and showing it off. She was very much an animal lover and always had a cat by her side.  She enjoyed spending time with her nieces and nephews, and relished her family's holiday gatherings. Julia was a member of the Sunshine Girls in the '60's, Eastern Star, and the Women's Club. She was an active member of the United Methodist Women, and sang in the church choir.
Julia died April 25, 2022 at her home in Cherokee, Iowa.
Preceding Julia in death were her parents, her sister Janice Jones and her husband Lowell Jones, step-niece Judy Kearney, and cousin Francis Richard.
Left to cherish her memory are two nieces, Jane Loder Eilers of Dunedin, FL, and Ann Loder of Niantic, CT, one nephew, John Loder of New York City, step-niece Connie Jones and her wife Brenda Collins of Sioux City, IA, great-nieces Jennifer and husband Bryan Klepper, Joey and husband Adam Gaines, great-nephew Austin Block, great-great nieces Vivien and Lucy Gaines, and Audrey Klepper, great-great-nephews Jack, Eddie, and Jay Gaines, and Will Klepper, other relatives and friends,
and her two cats –  Zipper and Buttons.