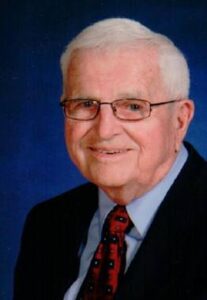 Funeral services for Charles Wharton, 97, of Aurelia, will be Wednesday, April 20, 2022, at 10:30 A.M., at the St. Paul Lutheran Church in Aurelia, with Pastor Derek Evans officiating. Burial will be in the Pleasant Hill Cemetery, rural Aurelia, with Military Honors by the Grashoff-McManus American Legion Post #390 of Aurelia and the L. A. Wescott Post # 2253 of the VFW in Cherokee. Visitation will be Tuesday from 4:00 P.M. until 7:00 P.M., with the family present, at the St. Paul Lutheran Church. The Wharton family has requested that memorials be directed to the St. Paul Lutheran Church, the Aurelia Fire & Rescue Dept., or the Aurelia Public Library in lieu of flowers.
Charles Wightman Wharton was born on November 27, 1924, (Thanksgiving Day) at the home of his parents, George and Julia (Wightman) Wharton in Aurelia. He attended all twelve grades and graduated in 1942 from Aurelia Consolidated School. He joined the U.S. Army Air Force in 1943 and served during World War II in the South Pacific on Tinian Island, in the 9th bomb group, until his discharge in 1946. Charles married Delores M. Kaskey on June 15, 1947. This union was blessed with three children. Delores died on February 20, 2000. He married Opal Pratt on May 12, 2001.
He co-owned and operated the Maple Valley Hatchery until 1960. He then owned and ran the Maple Valley Feed and Fertilizer and Maple Valley Hardware until his retirement in 1990.
Charles loved Aurelia! He was active in his beloved St. Paul Lutheran Church. He was involved in Boy Scouting for over 50 years and was the recipient of the Silver Beaver Award, the highest honor bestowed on adult scouters. He served three terms on the Aurelia City Council and was president of the Aurelia Commercial Club several times. He served ten years on the Aurelia Fire Department. He was an active member of the American Legion and VFW for over 72 years. Charles was an active charter member of Kiwanis where he was awarded the George F. Hixon Fellowship membership for dedicated service to Kiwanis and his community. He served on the Cherokee Fund Drive for ten years, and on the Heritage Bank board. He was a loyal member of the Aurelia Development Corporation. He also served on the Aurelia Golf Club board, Aurelia Library board, Aurelia Municipal board as well as the first Aurelia Community Center board. He was awarded the Aurelia Citizen of the Year Award and Governor's Award for Volunteer Work. He loved ballroom dancing and danced for 78 years. He always considered each of his wives and his loving family to be his greatest treasures. He also enjoyed golfing, reading and playing cards, especially bridge and cribbage.
Charles died Saturday, April 16, 2022 at Accura Healthcare of Aurelia, where he had been a resident since September 12, 2018.
Preceding Charles in death were his parents, his wife, Delores, his son-in-law Paul Holton, his brother George and his wife Florence Wharton, his brother-in-law Gene and his wife Emma Kaskey, and his sister-in-law, Sandra Kaskey.
Survivors include his wife, Opal Wharton of Cherokee, his three children; Ann Holton of Coralville, IA, Mark and his wife Karen Wharton of Omaha, NE, and Paul Wharton and his husband David Bohlig of Minneapolis, MN, two step-children; Janet and her husband Patrick Eisenmenger of Hendersonville, TN, and Dr. Thomas and his wife Laura Pratt of Sioux City, IA.  Also surviving are four grandchildren; Emily Wharton and Shawn Mayo of Des Moines, IA, Amanda and husband Ben Hunt of Omaha, NE, Kimberly and husband Erich Matteson of Bettendorf, IA, and Stephen and wife Kelli Holton of North Liberty, IA, eight great-grandchildren, six step-grandchildren, six step-great-grandchildren, one brother-in-law, Vernon Kaskey of Naples, FL, one sister-in-law, Cynthia Kaskey of Cherokee, IA, many nieces and nephews, and other relatives and friends.