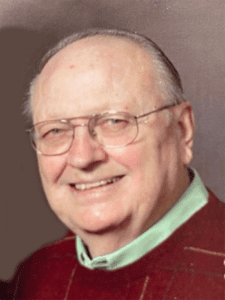 Funeral services for Gerald Anderson, 94, of Aurelia, will be held at 11:00 A.M. on Wednesday, December 1, 2021, at the First Congregational Church in Aurelia, with Pastor Tim Jones officiating. Burial will be in Pleasant Hill Cemetery, rural Aurelia, with Military Honors by the Grashoff-McManus American Legion Post #390 of Aurelia. Visitation will be Tuesday from 4:00 until 6:00 P.M. at the Redig Funeral Home in Aurelia.
Gerald Wayne Anderson was born March 10, 1927 in Aurelia, IA, the son of Hans and Edith (Carlson) Anderson. He graduated from the Aurelia High School in 1944. Jerry served in the U.S. Navy from 1944 until his honorable discharge in 1946. He attended A.I.B. in Des Moines. On October 5, 1947 he was united in marriage to Betty Grienke at the Congregational Church in Aurelia. Jerry worked part-time for two years as a bookkeeper for Dahl Foods in Des Moines while in college. He then worked for 35 years in sales and management with Moorman Manufacturing Company, both in Iowa and Minnesota, retiring on December 31, 1983.
Jerry was a member of the First Congregational Church in Aurelia where he served on numerous committees plus helping on the remodeling of the inside and outside of the property. He was a member of the American Legion for 73 years, the V.F.W., and past member of the Aurelia Fire Dept. As a member of The Heritage Museum and house, he helped restore, improve and conduct tours. He enjoyed reading, woodworking, time on the computer, card and bingo. He wintered five years in Florida and twenty four in Arizona. His favorite pastime was spent with his family, two children, two grandchildren, and six great-grandchildren, who affectionately called him "Pa".
Jerry passed away Sunday, November 28, 2021, at Accura Healthcare of Aurelia, where he had been a resident since 2014.
Preceding Jerry in death were his parents, his wife Betty on June 21, 2015, two brothers; Donald Anderson and Melvern Anderson, three sisters-in-law; JoAnn Anderson, Darlene Menefee, and Myrna Huseman, and two brothers-in-law; Dorrel Huseman and Clifford Menefee.
Survivors include two children; Gary Anderson of Waconia, MN, and Christy and her husband Kent Hyndman of Mankato, MN, two granddaughters; Lisa and her husband Brad Bock of Waconia, and Kelly and her husband Mark Nevermann of Chanhassen, MN, six great-grandchildren; Allison Seeman and fiancé Josh Thaemlitz, Cole Seeman, Lauren Bock, Alex Bock, Joey Nevermann and Jackson Nevermann, one brother, Gorlyn Anderson of Phoenix, AZ, and one sister-in-law, Marylyn Anderson of Phoenix, nieces and nephews and other relatives and friends.