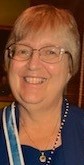 Marsha Jean Hucke, 66, of Iowa City, passed away unexpectedly at her home September 28, 2021.
Marsha's family will greet friends Saturday, November 6th from 12:30 to 2:00 pm at Lensing Funeral Service in Iowa City.  A  D.A.R. service will begin at 1:45 pm.
Memorial Services will be held Saturday, November 6th at 2:00 pm at Lensing's.  A graveside service will be held at Pleasant Hill Cemetery in Aurelia, Iowa at 11:00 am on Monday, November 8.
In lieu of flowers, memorials may be directed to First United Methodist Church in Iowa City or First United Methodist Church in Aurelia.
Marsha was born on April 14, 1955, in Sioux City, Iowa to Hugo and Lucille (Will) Hucke. She grew up Aurelia, Iowa, where she graduated high school before continuing her educating at the University of Northern Iowa. She graduated with her bachelor's degree in 1977 and moved to Iowa City, where she lived up until her death.
Marsha worked at The University of Iowa Hospitals and Clinics as a Health Information Management Technician, where she formed many lifelong friendships. She retired in January of this year after 44 dedicated years of employment.
She was an active member of Nathaniel Fellows Chapter DAR serving in many offices in her local chapter as well as the state level,  most recently as State Regent.  She attended First United Methodist Church in Iowa City, Iowa. Before moving to Iowa City, she was a member of First United Methodist Church in Aurelia and enjoyed attending when she would come back home to visit family.
Marsha was an avid Hawkeye fan and enjoyed traveling and learning about history as well as getting together with friends. She also loved time spent with family, especially her niece and nephews.
She is survived by her siblings Tom Hucke of Aurelia, IA, and Michele "Shelly" (Brian) Dubes of Lenoir City, TN; one niece Patricia "Trish" Dubes of Nashville, TN; three nephews Ryan (Cheri) Dubes of Lenoir City, TN, Nathan (Dr. Michelle) Dubes of Phoenix, AZ, and Bryce(Elise) Dubes of Lenoir City, TN, 4 great nieces and 4 great nephews as well as many friends.
She was preceded in death by her parents.
Online condolences and memories of Marsha may be shared with her family at www.lensingfuneral.com