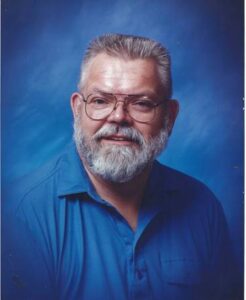 Visitation for Steve Samelson, 72, of Newell, will be Monday, August 2, 2021, from 5:00 P.M. to 7:00 P.M., with Masonic services at 7:00, followed by a memorial service at the First Congregational Church in Newell, with Pastor Greg Baskerville officiating. In lieu of flowers, memorials will be given to the Newell food pantry and the First Congregational church. The Redig Funeral Home in Aurelia is in charge of arrangements. Private inurnment will take place at the Newell Cemetery.
Steven Allen Samelson was born February 1, 1949, the son of Stuart "Swede" Alvin and Marjorie June (Witter) Samelson in Storm Lake, IA. He attended school in Newell and graduated from the Newell-Providence High School in 1967. Steve worked for Buena Vista County in the early 70's and farmed in the mid to late 70's. He then became a diesel mechanic at International Harvester and Storm Lake Hydraulics, and later at Ziegler Cat in Des Moines. Steve worked as a cashier at Highway 3 & 71 Sparky's Truck Stop for several years.   He was a member of the First Congregational Church in Newell, Masonic Lodge #408 of Alta, and the Abu Bekr Shrine of Sioux City. Steve enjoyed writing and learning about his hometown, genealogy, trains, heavy equipment, and talking to people.
Steve died Wednesday, July 28, 2021 at the Buena Vista Regional Medical Center in Storm Lake, IA.
Preceding Steve in death were his parents, and half-brother, Larry Cerwinski.
Survivors include his daughter and her husband; Amy and Aaron Kolbe, two grandchildren; Taylor Kolbe and Aaron Kolbe, all of West Des Moines, and one brother, Frank Samelson of Newell.