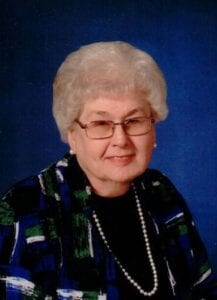 Funeral services for Loretta Rath, 92, of Aurelia will be 11:00 A.M. Friday, July 9, 2021, at the St. Paul Lutheran Church in Aurelia, with Pastor Derek Evans officiating. Visitation will be Thursday from 5:00 P.M. until 7:00 P.M. at the church. Burial will be in the Pleasant Hill Cemetery, rural Aurelia. The Redig Funeral Home in Aurelia is in charge of arrangements.
Loretta May Jensen was born June 7, 1929 at Holstein, Iowa the daughter of August and Esther (Ericksen) Jensen. She attended school there and graduated from the Holstein High School in 1947. She then attended Buena Vista College in Storm Lake and earned her teaching degree. On August 13, 1949 Loretta married Vernon Eugene Rath in Blue Earth, MN. They moved to Aurelia in 1960. She taught in Galva until 1979, and later worked as a nurse's aide, kitchen aide and then activities coordinator at Sunset Knoll in Aurelia.
Loretta was a member of St. Paul Lutheran Church where she was a member of the Ladies Aid. She was a member of the Women's Club, card clubs, and the Sunset Knoll Auxiliary where she also held offices, and the Women's Golf Board. She enjoyed playing cards, reading, and golf. Family was very important to Loretta. She attended all of her grandchildren's events that she could, and kept in touch with grand and great-grandchildren and nieces and nephews with phone calls.
Loretta died Saturday, July 3, 2021 at the Cherokee Regional Medical Center in Cherokee, IA.
Preceding Loretta in death were her parents, her husband Vernon on August 10, 2011, one son-in-law, Ed Benson, one brother, Virgil, one sister, Mary Ann Jensen, one brother-in-law and two sisters-in-law and their spouses; Wayne and Virginia Rath, Margaret and Ray Fixsel and Blanche and Bob McLeish.
Survivors include five daughters; Corinne and her husband Jim Bengtson of Aurelia, Jeanine Benson of Aurelia, Ann and her husband Drew Coombs of Nunn, CO, Barbara and her husband Dan Huseman of Aurelia, and Lisa and her husband Mark Cmelik of Aurelia. Also surviving are twelve grandchildren; Amanda and husband Robert Locke II, and Adam and wife Wendy Bengtson, Chad and wife Lisa Benson, Chris and wife Karen Benson, Brandon and wife Brandi Coombs, Ragen and husband Shad Bloomberg, Neil Huseman, Amy and husband Derrick Elman, Erin and husband Scott Patton, Scott Cmelik and fiancé Shawna Schmelling, Whitney and husband Mike Kuehn, Chrysta and husband Cory VanderPloeg, 24 great-grandchildren, one brother, Roger and his wife Sylvia Jensen of Sac City, sister-in-law, Jean Jensen of Kingsley, and  many nieces and nephews and other relatives and friends.