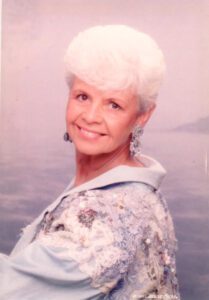 A celebration of life gathering will be held for Gayle Miller Brownmiller, 82, of Aurelia, on Sunday, October 3, 2021 beginning at 3:00 P.M. at the Aurelia Golf Club. Burial will have taken place at the Pleasant Hill Cemetery, rural Aurelia. The Redig Funeral Home of Aurelia is in charge of arrangements.
Gayle Elizabeth Mongan, the daughter of Ralph Guy and Marianne Elizabeth (Chandler) Mongan was born September 28, 1938, in Aurelia, Iowa. She attended school in Aurelia and graduated from the Aurelia High School in 1956. Gayle married the love of her life, Robert "Bob" Miller on January 29, 1956 at the Little Brown Church at Nashua, Iowa. She attended college and became a Licensed Practical Nurse. She worked for Dr. Blair and Dr. Gary in Cherokee for 36 years. Later she did work with Hospice through Sioux Valley Memorial Hospital. She retired in 2002.
Gayle lived her entire life in Aurelia. She was a member of the Congregational Church, the Nursing Organization, Aurelia Golf Club, Aurelia High School Booster Club, Red Hat Society, PTA, card clubs, and TTT Society. She enjoyed golfing, playing Bridge, the "famous" Miller family reunions, and being a volunteer for Hospice. Gayle helped organize an Honor Flights for three veterans through the AmVet Club in Storm Lake. Bob died on May 29, 1993, and in 1998 she married Francis "Red" Brownmiller who died on December 3, 2012.
Gayle died Friday, September 17, 2021 at the Cherokee Regional Medical Center in Cherokee, IA.
Preceding Gayle in death were two infant children; Michael Glen Miller and Carolyn Ruth Miller, her parents, two husbands; Bob and Red, and one brother, Gary C. Mongan.
Left to cherish her memory are her children: Calvin and his wife Julie Miller of Sioux City, IA, Carrie and her husband Doug Gulseth of Valley Springs, SD, and Matt and his wife Staci Miller of Fort Dodge, IA, six grandchildren: Josh Miller, Chelbie Miller, Drake Miller, Tehya Miller, Eric and his wife Jeannette Gulseth, and Broc and his wife Trecia Gulseth five great-grandchildren; Calvin Barker, Matt Jensen, Torre Gulseth, Tripp Gulseth, and Boone Gulseth, one sister-in-law, Keiko Mongan of Warrenton, VA, and other relatives and friends.