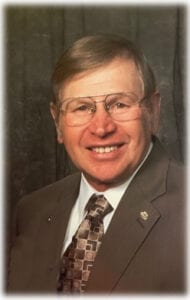 Funeral services for Ernest Arthur Glienke, 82, of Aurelia, will be at 10:30 A.M., Thursday, July 15, 2021, at the St. John Lutheran Church in Alta, IA, with Reverend Zachary Viggers officiating.   Visitation will be held Wednesday evening from 5:00 – 7:00 P.M., at the church.  Burial will take place at the St. John Lutheran Cemetery rural Alta, with military honors by the Alta V.F.W. Post # 6172 of Alta. The Redig Funeral Home in Aurelia is in charge of arrangements.
Ernie Glienke, age 82, of Aurelia, IA, peacefully left his earthly life to be with his Lord and Savior on Tuesday, July 13, 2021.  Ernest Arthur Herman Glienke was born on October 13, 1938, to parents Herman and Marie (Hinkeldey) Glienke in Maple Valley Township in Buena Vista County, IA.  He was the 10th child of 11 born.  Ernie attended St. John Lutheran Parochial School up until the eighth grade.  In 1956, Ernie enlisted to serve his country in the United States Army.  He earned the rank of SP4 and was honorably discharged on November 5, 1958.
After returning home from the military, Ernie was united into marriage on February 7, 1959 to Beverly Boese.  This union was blessed with four children: Brian, Dale, Keith, and Lois.  He and Bev raised their family on the dairy farm in Aurelia.  Although Ernie farmed, he also could weld, build, and fix anything that was needed.
Ernie was a faithful man who loved the Lord, his family, church, and community. He was a lifetime member of St. John Lutheran Church in Hanover, IA, where he was baptized on October 23, 1938, confirmed on April 6, 1952, and united in marriage. He served in every position at the church, including teaching high school bible class. Ernie served 15 years on the Iowa Farm Bureau Federation Board of directors, was a member of the V.F.W. and Gideons.
Besides his duties on the farm, Ernie was an incredible husband, father, and grandfather.  He was devoted deeply to everything he did and everyone in his life.  Ernie had a brilliant mind and loved teaching his grandchildren.
May the memories he made with everyone as he lived his earthly life be held close to all those that know and love him.
Ernie was preceded in death by his parents, brothers and sisters Henry, Albert, Esther, Emma, Lydia, Alvina, and grandson Cody Glienke.
Those left to cherish his memory include his wife of 62 years, Beverly Glienke of Aurelia; children: Brian and his wife Cindy Glienke of Aurelia, Dale and his wife Kris Glienke of Aurelia, Keith and his wife Marcy Glienke of Aurelia, Lois and her husband Roger Morris of Spencer, IA; grandchildren: Kyle and wife Ashlee Glienke, Levi and wife Katie Morris, Adam and wife Amy Glienke, Courtney and husband Dan Levin, Dana and wife Kaitlin Morris, Jason and wife Tristin Glienke, Stacie Glienke, Tanner and wife Katie Morris, Brandon Glienke; great-grandchildren: Alivia, Blake, Albert, Karsten, Collins, Mila, Amelia, Jovi.  Other survivors include brothers: Herman and wife Delores Glienke, Martin and wife Jeanne Glienke; brother-in-law Willard Schmidt; sisters: Dorothy Hinkeldey and Marie Lichtenberg; many nieces, nephews, relatives and friends.