HOWARD "Bunky" BALLANTYNE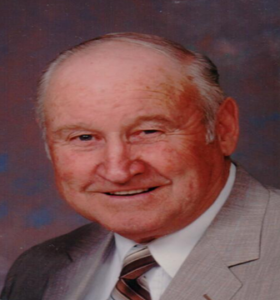 Funeral services for Howard Ballantyne, 92, of Aurelia, will be 11:00 A.M. Thursday, June 3, 2021 at the St. Paul Lutheran Church in Aurelia with Pastor Derek Evans officiating. Burial will be at the Pleasant Hill Cemetery, rural Aurelia. Visitation will be Wednesday from 5:00 P.M. until 7:00 P.M. at the church.
Howard Donald Ballantyne was born March 9, 1929, the son of Wilmer Clyde and Ora Frances (Stewart) Ballantyne in Cherokee, Iowa. He attended school at Wilson and Lincoln in Cherokee. On December 10, 1949 Howard married Mary Louise Peterson in Jackson, MN. Howard worked for IPS for ten years, Wilson Foods, Fredrickson Trucking, and was an over the road trucker most of his life, retiring in 1989. In his retirement he visited many people in the nursing home, and made the rounds stopping at different places in town, visiting with everyone, always remembering birthdays with flowers, candy, and cards. He loved spending time with his family.
Howard died Sunday, May 30, 2021 at his home in Aurelia.
Preceding Howard in death were his parents, his wife Mary on July 25, 2012, two granddaughters; Nicole and Megan Ballantyne, one grandson, Joshua Witte, one great-grandson, Logan Rivers, one sister and her husband Barbara and Bob Nelson, and two sisters-in-law; Iva Julius and Linda Rohlfs.
Survivors include seven children and their spouses; Carol J. Coombs and Scott Friedrich of Alta, Connie and Gary Ludwig of Kissimmee, FL, Cathy and Terry Coombs of Van Meter, IA, Carla and Tom Jones of Aurelia, Craig and Carol Ballantyne of Aurelia, Cindy and Doug Cannon of Meridian, ID, and Chris and Shelley Ballantyne of Alta. Also surviving are twenty one grandchildren, twenty nine great-grandchildren, two great-great-grandchildren, two brothers-in-law; Dale Julius of Cherokee and Willy Rohlfs of Palmer, IA, and many nieces and nephews and other relatives and friends.