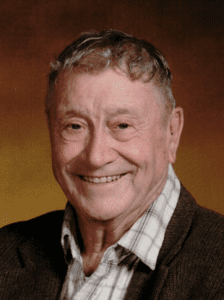 Funeral services for Albert Kreutz, 89, of Aurelia, will be 11:00 Friday at the St. Paul Lutheran Church in Aurelia. Burial will follow at the Diamond Township Cemetery, rural Aurelia. Visitation will be Thursday from 5:00 to 7:00 at the church. The Redig Funeral Home in Aurelia is in charge of arrangements.
Albert Eldon Kreutz was born November 15, 1931 and passed away on June 15th, 2021 at age 89. He was born to Fritz and Frauke (Frahm) Kreutz at their home farm in Diamond Center Township in Cherokee, Iowa. Albert was one of nine children, and walked to country school until the 8th grade. He worked on the family farm before joining the Army at age 21, serving in Korea, and upon returning from war completed the VA Farming Program under the G.I. Bill.
On December 2, 1952, Albert was drafted into the Army, and fought in the Korean War. While waiting to ship out, he and 16 other soldiers discovered that their records were lost and they were laid up for 60 days – until the records were finally found behind a desk. He arrived in Fort Sil, Oklahoma, for basic training for four months, eight weeks of infantry training, and finally survey school. They then traveled to Hiroshima where they were able to see firsthand where the atomic bomb had been dropped. His platoon had nicknamed him Truck, and as the lone "Farmboy" he was commissioned to head an initiative to build a 10-Seater Outhouse. Albert came home from Korea and was discharged on October 16, 1954, remaining in inactive service for eight years. He served a total of 16 months in Korea, as a Staff Sergeant surveying coordinates of the frontline (the DMZ) for the artillery, seeing combat for a total of 26 days in which they were pushed back 40 miles, and then returned to Iowa and continued working on the family farm.
He married his wife, Jean Ann Wagner on January 26, 1957, at the Cathedral of Epiphany Church in Sioux City, and they later joined St. Paul Lutheran Church in Aurelia. On June 15, 1960 they welcomed their one and only daughter, Alura. They spent their first three years of marriage on a farm northwest of Holstein, before moving to their farm outside of Cherokee where they lived for 40 years, and finally to their house in Aurelia in 2000. Throughout the years he was always a wonderful caretaker for his wife Jean who suffered from several health issues, and lost her right arm in 1996. Jean passed away in 2008, after 3 years in Sunset Knoll nursing home, where he went every single day to visit her. In 2017, he had the honor of participating in the Eastern Iowa Honor Flight to Washington D.C. In his later years, grandson Travis lived with him to help him out, with Gary and Alura moving in to care for him once Travis took over farming in early 2020. He was cared for at home up until he was put on hospice care at the end of March.
While farming was a life-long occupation, he also raised cattle & hogs, was a seed salesman, drove a ready-mix truck, and later drove a school bus for the Aurelia School District. He enjoyed fishing, playing cards, going to Mud on Main in Aurelia daily for breakfast, and was quite the jokester and tease. He was a very active senior citizen in the community of Aurelia, delivering meals and taking seniors to appointments, and was awarded Citizen of the year 2011. Throughout his life he was always a caretaker in some way and a social butterfly in his community.
Albert was preceded in death by his parents; his wife Jean on July 19th, 2008; sister Christine and husband Keith McGee; sister Helen and husband Lawrence Albers; sister Elsie Kreutz; brother Fred and wife Lee (Lullman) Kreutz; brother Hans Kreutz; sister Hilda and husband Everly Rohlk; sister Irene and husband Harlan Rabe; and brother in law's Max Gerjets and Merlin Miller.
Left to cherish his memory is his daughter Alura (Kreutz) Otto and her husband Gary Otto; granddaughter Erika Otto; granddaughter Priscilla and husband Blake Gonterman of Solon, IA; grandson Travis Otto; great-grandchildren Cooper and Grace Gonterman; sister MaryAnn Miller; and several nieces, nephews, other relatives, and friends.