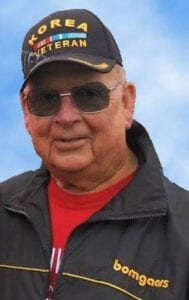 Funeral services for Royce Cougill will be 10:30 Friday, May 28, 2021 at the First Church of Christ in Cherokee, with Pastor David Hall officiating. Burial will be at Pleasant Hill Cemetery, rural Aurelia, with Military Honors by the Grashoff-McManus American Legion Post #390 of Aurelia. Visitation will be Thursday from 5:00 to 7:00 at the First Church of Christ in Cherokee. The Redig Funeral Home of Aurelia is in charge of arrangements.
William Royce Cougill, the son of William Rufus Cougill and Olive Evelyn (Dicks) Cougill was born March 9, 1931, at 919 Hughes Ave., in Cherokee, Iowa. He attended schools at Webster Elementary and Wilson High School in Cherokee. Royce was baptized on February 14, 1968, at the First Church of Christ in Cherokee, Iowa, where he remained a member.
At the age of 10, Royce carried the Des Moines Register newspaper until he turned 16.  He also worked part-time for the Council Oak Grocery in Cherokee after school and on weekends. At the age of 16, he drove truck for Mauer Construction while they worked graveling roads in Cherokee County. It was during this time that Royce became interested in stock car racing and drove a stock car until his car wreck in 1950 at the Soo Speed Bowl in Cherokee. He thoroughly enjoyed racing, and later in his life he raced at the Buena Vista Raceway.
On Dec. 27, 1951, Royce enlisted in the U.S. Navy at Spencer, Iowa. His training took place at the Great Lakes Naval Training Center in Great Lakes, IL. Following boot camp, he was assigned to the USS Bache DDE-470. He loved everything about being in the Navy. It allowed him to serve his country and granted opportunities to see the countries of the Atlantic, Mediterranean, and the Caribbean. One of his most memorable times was when he and his shipmates sailed past the Statue of Liberty in New York Harbor after serving 6 months in the Mediterranean. Royce was released of active duty in December 1955 and was honorably discharged in December 1959, having completed four more years of inactive duty. His highest rank held was Boilerman Second Class Petty Officer.
Royce married Joyce Marie (Klumpp) Cougill on September 30, 1956, at the Methodist Church in Webb, Iowa.  Their first home was a trailer home as Royce worked road construction for Iowa Road Builders. In 1957, the couple returned to Aurelia where Royce worked for Carlson Texaco and drove truck at night for Benson Trucking. In 1959, Royce and Joyce purchased their permanent home in Aurelia. Royce and Joyce raised five children in this home: Debra Diane, Tamra June, Kimberly Kay, Brenda Joyce, and William Ryan. Royce thoroughly enjoyed his children, grandchildren, and great-grandchildren. He and his son, Bill, collected many toy trucks, tractors, and cars and even transformed a room in their house into a train room which has been enjoyed by the grandchildren and great-grandchildren.
In January 1967, Royce purchased Carlson Texaco and renamed it Royce's Texaco. While operating Royce's Texaco, he also started Cougill Trucking and hauled construction material for many people including Hallett Materials/Construction in Cherokee. He later sold the Texaco business in 1977 to his brother Lyle Cougill and continued to help him in the business as needed. After suffering a heart attack on December 8, 1977, at the age of 46, Royce began to look at life a bit differently. He began to downsize his trucking business and sold two of his three trucks. In 1987, Royce opened Cougill Trucking and Service Station located at the original Royce's Texaco located at 200 Main Street in Aurelia. He operated this business until he sold the service station to Craig and Carol Ballantyne.
Throughout his lifetime, Royce also drove a regular school bus route and for extra-curricular activities for the Aurelia Community School District. His career as a bus driver spanned 42 years; 35 of those years Royce had the same bus route and transported two generations of students and retired from driving bus at the age of 70. His bus family always had a special place in his heart.
Royce served his community by serving on the Aurelia Fire Department for 18 years and was a member of the American Legion Post 390 in Aurelia, and the Veterans of Foreign Wars of Alta, Iowa.
As his retirement years approached, Royce began working for Bomgaars Supply in Cherokee. He worked for this farm and home business for 20 years. Royce enjoyed meeting people, working for this company, and he took great pride in his work. It is well-known that he had a place for everything in the back room.
In his spare time, Royce enjoyed woodworking and attending his children's and grandchildren's various activities whenever possible
Royce was preceded in death by his parents; his wife Joyce (Klumpp) Cougill on December 21, 2019; grandson Spenser Nelson; his sisters: Mary Maxine Hantsbarger, and Wilma Naomi Morton; his brothers: Lyle Dean Cougill, Farrel Leroy Cougill in infancy, and Keith Alvin Cougill in infancy.
Left to cherish his memory are his children: Debra and her husband Randy Galvin of Early, IA, Tamra and her husband Curt Nelson of Johnston, IA, Kimberly and her husband Matthew Warnke of Arnolds Park, IA, Brenda and her husband Frank Huseman of Manson, IA, and Bill and his wife Sheila Cougill of Early, IA, his grandchildren:  Heath and wife Jenny Galvin of Grimes, IA, Sara Nelson of Maquoketa, IA, Tim and wife Ashley Galvin of Aurelia, Evan Huseman of Des Moines, IA, Cody and wife Jana Galvin of Aurelia,  Jonathan and wife Shelby Nelson of Urbandale, IA,  Taylor and wife Olivia Huseman of Milford, IA, and Ryan Cougill and Jacob Cougill of Early; his great-grandchildren:  Avery, Aiden, Hunter, Maddox, Kutler, Kolby, Sullivan, and Baby Galvin due in July 2021, Grant Nelson, and Holland Huseman; his sister: Juanita Graybill of Sioux City, and sisters-in-law: Peg and husband Jerry Carsten of Whiting, IA, Barbara Templeman of Holstein, IA, Elizabeth Tuttle of Cherokee, and Bonnie and husband Gary Lewis of Aurelia, and many nieces, nephews, and friends.