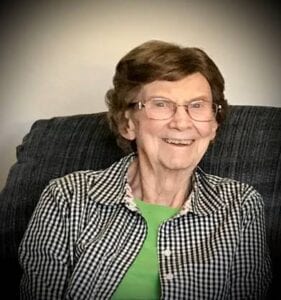 Funeral services for Florence N. Tuttle, 90, of Aurelia, will be held Friday, May 21, 2021 at 10:00 AM at the St. Paul Lutheran Church in Aurelia with Pastor Derek Evans officiating. Burial will be at the Immanuel Lutheran Cemetery, rural Aurelia. Visitation will be Thursday from 5:00 P.M. until 7:00 P.M. at the church.
Florence Naomi Polzin was born February 9, 1931, the daughter of Alvin Fredrick and Frieda Marie (Klein) Polzin at Alden, Iowa. She attended elementary school there until the family moved to Des Moines in 1942. She graduated from high school and then worked as a clerk and secretary in various offices in Des Moines. On September 21, 1952 Florence married Ernest Arnold Tuttle at the Trinity Lutheran Church in Des Moines. She was a homemaker and actively worked on the family farm. She also served as the secretary at St. Paul Lutheran for over 40 years. Florence was a member of the St. Paul Lutheran Church. She was a great cook and baker, and enjoyed her family, gardening, flowers, and crocheting.
Florence died Sunday, May 16, 2021 at Accura Healthcare in Aurelia.
Preceding Florence in death were her parents, her husband Ernie on December 2, 2017, infant sister Eleanore Polzin, two brothers and their wives; Donald and Josephine Polzin and Edward and Jacquline Polzin, daughter-in-law Sandy Tuttle, nine sisters-in-law; Verla Tuttle, Mildred Troester, Gladys Tuttle, Lola Dilocker, and Arleen Van Hemert, Beverly Tuttle, LaVonne Tuttle, Pat Tuttle, and Becky Tuttle, and eight brothers-in-law; Marvin Tuttle, Gerald "Jerry" Tuttle, Ervin "John" Tuttle, Ron Tuttle, Dale Van Hemert, Eldon Dilocker, William Rogers, and Lowell Troester.
Survivors include four sons; Ernest W. and his wife Pam Tuttle of Olympia, WA, Jeff and his wife Rita Tuttle of Cherokee, Terry and his wife Mary Tuttle of Cherokee, and Tim Tuttle of Aurelia. Also surviving are eleven grandchildren, ten great-grandchildren; one great-great-grandchild, two sisters-in-law; Deloris Rogers of Des Moines and Elizabeth Tuttle of Cherokee, and many nieces and nephews and other relatives and friends.