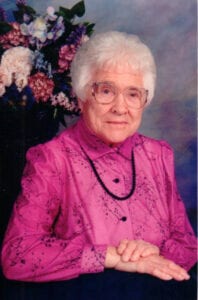 Graveside services for Lorene Heimsoth, 103, of Aurelia, formerly of Alta, will be held at 11:30 A.M. Friday, April 16, at the Pleasant Hill Cemetery, rural Aurelia, with Pastor Henry Kuhn officiating. There will be no visitation. The Redig Funeral Home in Aurelia is in charge of arrangements. Lorene died Sunday, April 11, 2021 at Accura Health Care of Aurelia, IA where she had been a resident since June 9, 2020.
Lorene Mary Mathilda Wrede was born on December 28, 1917 to Herman and Emma (Huseman) Wrede in Hanover, Iowa. She was baptized and confirmed at St John's Evangelical Lutheran Church in Hanover. German was the original language spoken in the house until the day her father decided that the family must speak English. Lorene graduated from eighth grade, and she was notable for pitching on the girls' baseball team.  The year she pitched; her team was good enough to beat the boys' team.  When Lorene was 17, her cousin, Joan Marlene (Huseman) Brownmiller came to live with the family following the death of Joan's mother.  They formed a tight bond, despite a 16 year age difference, that lasted until Joan's death in July of 2018.
Lorene married Arthur William Carl Wogahn on June 30, 1937 in Hanover. They had a son, Larry Arthur Wogahn, on July 16, 1940, and they farmed together until Art's passing on November 3, 1967. Defying the social norms for women, she farmed by herself until she married her second husband, Erwin Heimsoth, on December 4, 1972. He had ten children with his first wife, and the youngest one, Jane Heimsoth, lived with them for several years. Lorene treated her as a daughter. Erwin and Lorene farmed together until their retirement, and they moved to Storm Lake, Iowa. Erwin died in 1990 at age 78 and is buried next to his first wife, Alice Tolzin, in Hartley, Iowa.  Lorene is also preceded in death by her twin sister Lavern L. Lietz and their brother Wayne K. Wrede, who shared the same birthday as his sisters, only four years later.
Lorene is survived by her son Larry and his wife Margaret Wogahn and grandchildren Brent and his wife Kristin Wogahn, Nancy and her husband Larry Busch, and Timothy and his wife Linda Wogahn.  Also surviving are Joan's children; Roxie and her husband Bob Richard, and Steve and his wife Kathy Brownmiller, Erwin's daughter; Jane and her husband Gary DeYoung and granddaughter Jackie Schmillen. Lorene also is survived by eight great-grandchildren, and many nieces and nephews.