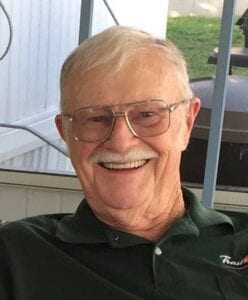 Memorial and Masonic services for Harvey Batten, 88 of Cherokee, formerly of Aurelia, will be held at 1:00 p.m. Saturday, April 17, at the Aurelia Community Center, with inurnment at the Pleasant Hill Cemetery, rural Aurelia with Military Honors by the Grashoff-McManus American Legion Post #390 of Aurelia. There will be no visitation. The Redig Funeral Home in Aurelia is in charge of arrangements.
Harvey Lee Batten was born July 24, 1932, the son of Willard Lee and Virginia Frances (Zeek) Batten in Des Moines, IA. He graduated from high school in Carlisle, IA in 1950. He served in the US Navy aboard the Franklin D. Roosevelt aircraft carrier from November 24, 1950 until his honorable discharge on September 10, 1954.
Harvey was united in marriage to Eleanor Joan Prall on December 13, 1953 in Carlisle. He then attended Barber College in Des Moines. They moved to Aurelia in 1962 where Harvey operated a barber shop. In 1977 Harvey also became a rural mail carrier. He sold the barber shop in 1989.
Joan died December 8, 1989. On November 26, 1994 Harvey married Edna (Pruitt) Hoefler at the Little Brown Church in Nashua, IA. Harvey retired from being a mail carrier in 1997.
Harvey was a member for over 50 years of the American Legion and the Masons. He was a volunteer fireman in Carlisle and for ten years on the Aurelia Fire Department. He was also a member of the NRA and the FDR Association. Harvey enjoyed fishing, hunting and trapping.
Harvey enjoyed 17 winters with Edna at their Texas home. They had many fun times with their friends from all over the U.S. and Canada.
Harvey's grandchildren and great-grandchildren were his pride and joy.
Harvey died Friday, February 5, 2021 at the Buena Vista Regional Medical Center in Storm Lake, IA.
Preceding Harvey in death were his parents, his wife Joan, two sisters; Clarice Penley and Frances Hupke and her husband Lester, and step-son Chad Hoefler.
Survivors include his wife Edna of Cherokee, two daughter; Deborah and Mike Mickelson of Blue Springs, MO and Carla Crane of Cherokee, and one son Doug Batten of Columbia, MO. Also surviving are five grandchildren and eight great-grandchildren; Aaron Mickelson and his wife Chrissy and their children Molly, Maggie, and Alexander
Harvey of Blue Springs, MO, Graig Mickelson and his wife Casey and their children Emma and Ethan of Grain Valley, MO, Haley Mickelson of Blue Springs, MO, Kelly Wiese and her husband Aaron of Cherokee and their children Evan Appleby, Macaib Appleby, and Chase and his wife Josie Wiese, and Keith Crane and his wife Melissa of Cherokee, along with other relatives and friends.
Memorials can be given to the National Multiple Sclerosis Society or the Aurelia Fire Department in Harvey's memory.