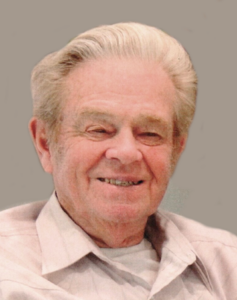 Graveside services for John Pearson, 85, of Aurelia, will be held Wednesday, March 31, 2021, at 11:00 A.M. at the Amherst Cemetery at Marcus, with Pastor Tim Jones officiating. Visitation will be Tuesday at the First Congregational Church in Aurelia from 5:00 P.M. to 7:00 P.M. with the family present. The Redig Funeral Home in Aurelia is in charge of arrangements.
John Francis Pearson was born the son of Paul and Nellie (Dunn) Pearson on July 17, 1935 on the family farm northeast of Cleghorn. He was confirmed at Faith Lutheran Church in Marcus. He graduated from the Cleghorn High School. John married Marlene Menefee on September 8, 1956 at the Congregational Church in Aurelia, where he was a member and served on many boards over the years. He started farming at an early age and continued for most of his life. He also sold stocks and bonds for a while, and did some carpentry work. John enjoyed collecting toy tractors, going to toy tractor shows in Dyersville, IA, picking up tractor parts for Pearson Repair going along the Mississippi River and staying in their favorite Bed and Breakfast in Clayton, IA, having coffee, going to the Grand Falls Casino, and spending time with his grandchildren.
John died Friday, March 26, 2021 at Accura Healthcare in Aurelia, Iowa.
Preceding John in death were his parents, one son, Neal Pearson, and his father-in-law, McKinley Menefee and mother-in-law Katherine Menefee.
Survivors include his wife Marlene of Aurelia, two daughters; Diane and her husband Denny Mann of Aurelia and their children John Mann of Cherokee and Jessica and husband Jacob Howey of Humboldt, Lorri and her husband Greg Gill of Meriden and their children Katie Gill of Sioux City and Gordon and wife Carrie Gill of LeMars, and one son, Karl and his wife Rita Pearson of Aurelia and their children Mindy and husband Ian Kory of Ankeny, Luke and wife Maggie Pearson of Aurelia, Steven Rupp and fiancée Danica Paguio of Juneau, AK, and Andrew Rupp of Aurelia, and daughter-in-law Kathleen and husband Joe Kessenick and her children Nathan and Kale Pearson of LeMars, and seven great-grandchildren. Also surviving are three brothers; Keith and wife Beth Pearson of Ft. Collins, CO, Richard and wife Janna Pearson of Spokane, WA, and Larry and wife Margit Pearson of Burlington, WI, nieces and nephews and other relatives and friends.