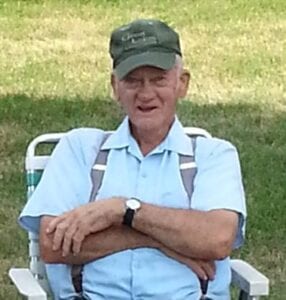 Funeral services for Jack E. Johnson, 89, of Aurelia, will be 11:00 A.M. Friday, April 2, 2021, at the Bethlehem Lutheran Church in Cherokee, with Pastor Jean Morse officiating.  Burial will be in the Oak Hill Cemetery, Cherokee. Visitation will be one hour prior to the service at the church. The service will be live streamed at https://www.youtube.com/watch?v=XvpoXUPkZ6g. In lieu of flowers memorial contributions may be made to the Cherokee Medical Center Hospice or the Relay for Life.
Jack Elmer Johnson was born October 31, 1931 in Pierson, IA to Hjalmer and Elin (Samuelson) Johnson.  He attended Grand Meadow School west of Cherokee.  He then did farm work for a family that has always held a special place in his heart. He enlisted in the U.S. Navy in April of 1952 during the Korean Conflict.  He was honorably discharged in September of 1953.
Jack met the love of his life, Janina Ann Mikulicz, at a dance in Sioux City, IA.  They were married on December 5, 1954, and farmed briefly in the Grand Meadow area before moving north of Aurelia where they farmed and raised their four children.  Jack was very proud of his corn and soybean fields and as he called it, the miracle of the seed.  Jack also ran a successful farrow-to-finish operation and was named a Master Pork Producer in 1980.
Jack, Janina and family attended Immanuel Lutheran Church north of Alta for many years where they were active with teaching and the church council.  They were currently members of Bethlehem Lutheran Church in Cherokee.
For many years Jack was a proud supporter of Relay for Life in Cherokee County as he was a cancer survivor.  When he was diagnosed with cancer around the age of 50, he asked God for ten more years.  God gave him 40.
Jack loved to tinker with his old tractors and his pickup.  With a good friend's help, they restored his first brand new tractor,  a 1958 Farmall 450, a 1951 Farmall H and a 1959 International Pickup. He enjoyed taking his "toys" to tractor rides and parades.
Jack passed away peacefully at the Good Samaritan Society in Holstein surrounded by his family on Saturday, March 27, 2021.
Preceding Jack in death were his parents, Hjalmer and Elin, step-mother Kerstin, brother Henry, sister Rosa, granddaughter Lindsey Johnson, step-sister Maj-Britt Gibson and the love of his life, Janina this past November.
Left to cherish his memory forever and ever are his four children; Karen Lloyd of Fort Dodge, Roger and his wife Shelley Johnson of Peterson, Patricia and her husband Ken DeBreau of Gurnee IL, and Richard and his wife Connie Johnson of Urbandale. Also surviving are eleven grandchildren; Trevor and wife Shelby Lloyd, Whitney and husband Nick Ford, Traci and husband Matt Beerbower, Ashley Bates and fiancé Brent Zieman, Trista and husband Mark Mikkelson, Emily and husband Brady Bonin, Tiffany and husband Tyler Kruid, Ryan and wife Ruthanna Johnson, Caely Johnson, John DeBreau, Michael DeBreau, 17 great-grandchildren, one great-great-grandchild, nieces, nephews and other relatives and friends.