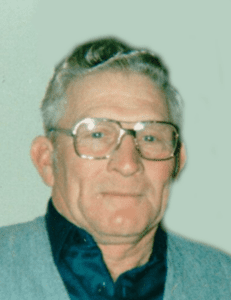 Private family funeral services for Gus Kai, 88, of Aurelia, will be held with interment at the Pleasant Hill Cemetery, rural Aurelia. The Redig Funeral Home in Aurelia is in charge of arrangements. In lieu of flowers, memorials may be directed to Cherokee Regional Medical Center Hospice or the Aurelia First United Methodist Church. Livestream will begin at 10:55 A.M. on Wednesday, February 17, at Aurelia First United Methodist Church Facebook Page https://www.facebook.com/AureliaFUMC
August George "Gus" Kai was born July 20, 1932, the son of Herman and Edna (Lawton) Kai at Wakefield, Nebraska. They lived at Concord, NE until 1937 when the family moved to Pender, NE where he attended rural school. Gus was left with the responsibilities of operating the farm and caring for his six younger siblings at the age of fourteen after his father passed away. Gus truly enjoyed farming. He valued a hard day's work and took pride in his profession. He was a farmer at heart who loved his cattle and his land. Gus married Janet Rhea on December 4, 1955 at the Presbyterian Church in Cherokee. They made their home at Pender until moving to Quimby, IA, in January of 1959, and lived there for four years until moving to a farm south of Aurelia in March of 1963. He bought a farm which he said he wanted to do after "crossing the river". They bought a farm in 1978 and retired into Aurelia in 1999. Gus served for four years on the Cherokee County Extension Board, the Pork Producers Board, six years on the Cleghorn-Cherokee Elevator Board of Directors, Iowa Institute Board, First Farmers Board of Directors, the Cherokee County FMHA Board, and a he was a board member of the NW Iowa Research Farm. He was a member of the Aurelia First United Methodist Church where he was actively involved. Gus and Janet enjoyed dancing, golfing, playing cards, reading, and taking bus trips. He enjoyed spending time with his family and was a faithful supporter of the grandchildren and great-grandchildren's sporting events and other activities over the years. He cherished his many friends and loved their memorable travels.
Gus died Saturday, February 13, 2021 at their home in Aurelia.
Preceding Gus in death were his parents, three brothers; Floyd, Paul, and Charles Kai, three sisters; Alice Schleusener, Ruby Duncan, and Ann Kai, two brothers-in-law, Art Schleusenar and LeRoy Duncan, and one sister-in-law, Rosemary Kai.
Survivors include his wife Janet of Aurelia, three children; Sheila Rohlk of Cherokee and her fiancé Doug Patten, Jeff and his wife Cindy Kai of Aurelia, and Marcia and her husband Tom Brolsma of Hampton, IA, eight grandchildren; Sara and husband Chez Moore of Des Moines, Brandon and wife Ashley Rohlk of Wauwatosa, WI, Emily Rohlk of Spencer, Brent and wife Kelli Kai and their children Kolby and Romy of Cedar Falls, IA, Shana and husband Drew Wieland and their children Reese, Evie, and Delta of Aurelia, Leah Kai of Sioux Falls, SD, Tanner Brolsma and fiancée Gracie Deery of Sioux Falls, and Katie Brolsma of Chariton, IA. Also surviving are two brothers; Glenn and wife Roberta Kai of Bancroft, NE, and Robert and wife Glenda Kai of Lincoln, NE, one sister, Sybil Kai of Bancroft, and one sister-in-law, Connie Kai of Omaha, NE, and nieces and nephews and other relatives and friends.