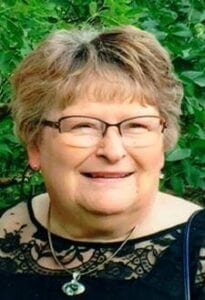 Private family services for Bonnie J. Ebel, 79, of Cherokee, formerly of Aurelia, will take place at a later date at the Good Hope Cemetery. The Redig Funeral Home is in charge of arrangements.
Bonnie Jean Vander Pol was born December 8, 1941, the daughter of John and Artie (Brink) Vander Pol at Sheldon, Iowa. She graduated from the Primghar High School in 1960. On October 14, 1960 Bonnie married Jimmy Jay (Jim) Ebel in Primghar. They farmed for 19 years in the Mt. Olive area south of Aurelia before moving to Aurelia. She was a member of the Aurelia First United Methodist Church.
Bonnie died Monday, January 11, 2021 at the Cherokee Regional Medical Center in Cherokee, Iowa.
Preceding Bonnie in death were her parents, her husband Jim on September 26, 2016, and one sister-in-law, Kay Vander Pol, one brother-in-law, Butch Bergendahl.
Survivors include two sons and their wives; Jeff and Tami Ebel of Storm Lake, and Kirk and Lori Ebel of Cherokee, four grandchildren; Ryan Ebel of Cherokee, Katie and husband Corey Carlton on Creston, IA, Mitchell Ebel of Storm Lake, and Cole Ebel of Grimes, and three great-grandchildren; Landry, Emma, and Walker Carlton. Also surviving are four brothers; Robert Vander Pol of Sioux Falls, SD, Galen and wife Marlene Vander Pol of Sutherland, Rod Vander Pol of Leland, NC, and Roger and wife Mary Vander Pol of West Point, NE, two brothers-in-law and their wives; Robert and Shirley Ebel of Sierra Vista, AZ, and Ben and Connie Ebel of Primghar, one sister-in-law, Linda Bergendahl of Spencer, nieces and nephews and other relatives and friends.