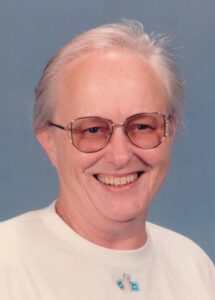 Elaine Ruth Buenger, 94, of Spencer, formerly of Aurelia, will be held at 2 p.m. on Thursday, September 17, 2020 at St. Paul's Lutheran Church in Alta. The Rev. Zachery Viggers will officiate. Visitation will be one hour prior to the service at the church. Burial will be at Pleasant Hill Cemetery, rural Aurelia, following the service.
Elaine died Sunday, September 13, 2020 at St. Luke Lutheran Home in Spencer.
She was born on a farm northwest of Hartley, Iowa on January 11, 1926, to Albert and Ida (Peters) Zinn. She was baptized at St. Paul Lutheran Church in Hartley. She was also confirmed there in May, 1940. She attended schools in and around Hartley until March, 1940, when she moved with her parents to a farm east of Larrabee, Iowa.
Elaine graduated from Larrabee High School in May, 1945. She worked in Sioux City until 1948, when she returned to Cherokee to work at Woolworth's. She was married to Bernhard Buenger on March 26, 1949. Following her marriage she worked on the farm and was a homemaker until her children were grown. She then worked at Sioux Valley Hospital in Cherokee as a nurse's aide for 15 years and also cared for people in their homes.
She moved into Aurelia, following her divorce, where she lived until 2017 when she moved to Spencer. She resided at Riverview Terrace until February, 2018, when she moved into St. Luke's Lutheran Home. During her retirement, she enjoyed traveling, with trips to Europe, England, and Southeast Asia among the highlights.
She was preceded in death by her parents, an infant brother, one brother, one sister, one sister-in-law and two brothers-in-law, and one son, Robert Buenger, in 1988.
She is survived by four children: Glenda Buenger, of Iowa City, Iowa; Marlene Fessler, of Kansas City, Missouri; Jeanette Buenger and Randy Eytchison of Gilbert, Arizona; Joel and Paula Buenger of Everly, Iowa; five grandchildren and three great-grandchildren.Two sisters survive her: Bernadean Florke, of Spencer, Iowa; Beverly Elgersma of Sanborn, and one brother, Kenneth and wife Karen Zinn, of Lake Park, Iowa.