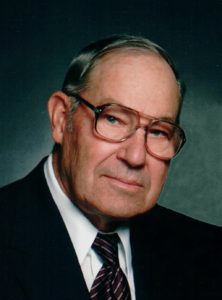 Funeral services for Ervin John Tuttle, 87, of Cherokee, will be Friday, July 3, 2020, at 3:00 P.M., at the St. Paul Lutheran Church in Aurelia, with Pastor Derek Evans officiating. Visitation will be from 4:00 to 7:00 Thursday and from 2:00 to 3:00 Friday at the St. Paul Lutheran Church. Burial will be in the Pleasant Hill Cemetery, rural Aurelia. The Redig Funeral Home in Aurelia is in charge of arrangements.
          Ervin John Tuttle was born on November 6, 1932, north of Aurelia, Iowa, the son of Ernest Charles and Augusta Doris (Hasenwinkel) Tuttle. John was one of eleven children. He attended country school and Jr. High in Cherokee. John served in the U.S. Army, being honorably discharged in 1955. He farmed all of his life. On March 22, 1959 John married Beverly Ann Weaver at the St. Paul Lutheran Church in Aurelia. They became the parents of four children: Paul, Bruce, Lynette, and Dan. Beverly died February 14, 1995 following a car accident. On February 20, 1999 John married Elizabeth (Buenger) Klumpp at the St. Paul Lutheran Church in Aurelia.
John was a member of St. Paul Lutheran Church, where he served on several church boards and taught Sunday school. He enjoyed woodworking and his family, and his kids and grandkids events.
          John died Wednesday, July 1, 2020 at the Heartland Care Center in Marcus, IA.
          Preceding John in death were his parents, his wife Beverly, five sisters; Verla Tuttle, Mildred Troester, Gladys Tuttle, Lola Dilocker, and Arleen Van Hemert, three brothers; Marvin Tuttle, Gerald "Jerry" Tuttle, and Ernest "Ernie" Tuttle, three brothers-in-law; Dale Van Hemert, William Rogers, and Lowell Troester, and three sisters-in-law; LaVonne Tuttle, Pat Tuttle, and Becky Tuttle.
          Survivors include his wife Elizabeth Tuttle of Cherokee, four children; Paul Tuttle and his fiancée NiKay Schaffer of Mapleton, Bruce and his wife Lori Tuttle of Orange City, Lynette Larson of Smithland, and Dan and his wife Jo Tuttle of Spirit Lake, and one step-son, Matthew and his wife Lynda Klumpp of Mt. Pulaski, IL., twenty one grandchildren; Matthew Tuttle, Michael and wife Erika Tuttle, Brian and wife Rachael Tuttle, John Tuttle, Jacob Tuttle, Donald Klumpp, Emily and husband Nick Boggs, Abby and husband Cole Forbey, Mikayla Tuttle, Amy Tuttle, and Sylvia Klumpp, Chelsea and husband Adam Bernard, Steven and wife Annie Schaffer, Zach, Jacob, Jasmine, Grace, Katelynn, Xavier, Jenikka, and Carmen Schaffer, and nine great-grandchildren. Also surviving are one brother, Ronald Tuttle of Holstein, one sister, Deloris Rogers of Des Moines, one sister-in-law, Florence Tuttle of Aurelia, many nieces and nephews, and other relatives and friends.