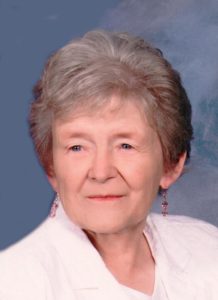 Marilyn Ruth (Otto) Anderson passed away peacefully on May 7th, 2020 at Accura Healthcare of Aurelia, Iowa (Sunset Knoll). A private family service will be held at Buena Vista Memorial Park Cemetery in Storm Lake with a celebration of life to be planned for a later date. Redig Funeral Home of Aurelia is in charge of the arrangements. Memorials may be directed to the Memory Gardens at Accura Healthcare of Aurelia.
Marilyn Ruth Otto was born on October 2, 1934 in Storm Lake, Iowa, the daughter of Ernest and Elvira (Getzmeier) Otto of Alta, Iowa. She grew up on the family farm with her four younger sisters and graduated valedictorian of her class from Alta Community Schools in 1952. After graduating from Iowa State Teachers College in Cedar Falls, she began her first teaching job in Humboldt, Iowa. During this time, she met the love of her life, Leland Anderson, and they married on June 23, 1957. She later completed her Bachelor's degree at the University of Northern Iowa and substitute taught for several years before teaching at Meriden-Cleghorn and Willow Community Schools (Quimby).
Marilyn was active in various Lutheran Church activities and groups. She was an avid reader and loved learning and experiencing new things throughout her life. She enjoyed dancing, going to card club and socializing with friends. In their retirement years, she and Leland enjoyed traveling by RV and wintering in Texas. During their travels they were able to visit 48 of the 50 state capitals. They were always excited to attend concerts, musicals, sporting events, etc. and often traveled many miles to support family and friends.
Left to cherish her loving ways are her husband of 62 years, Leland Anderson; children Pamela Raduechel (Darrell) of Des Moines, Mitchell Anderson (Lynn) of Indianola and Darren Anderson (Tracy) of Spirit Lake, Iowa; grandchildren Christina Van Wyk (Pat), David Raduechel, Matthew Raduechel, Meagan Jacobson (Ryan), Tyler Anderson (Megan), Jacob Anderson (Kristen), Lauren Anderson and Kyle Anderson; seven great grandchildren; sisters Sandra Benedett, Beverly Wurdeman and Norma Hayes (Richard); sister in-law Donna Anderson and numerous nieces and nephews.
She was preceded in death by her parents Ernest and Elvira Otto, sister Janice Krejchi, brothers in-law Mike Krejchi, Frank Lieb, Ed Adkins, Arno Benedett, Mike Wurdeman, Lowell Gano, Lawrence Anderson and sister in-law Ruby (Anderson) Gano.
The family is looking forward to gathering at a later date with family and friends to celebrate her life.