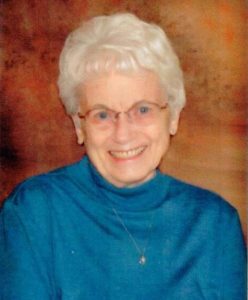 Funeral services for Viola Allen, 96, of Aurelia will be Tuesday, January 21, 2020 at 11:00 A.M. at the First United Methodist Church in Aurelia with Pastor Kim Dewey officiating. Burial will be at Pleasant Hill Cemetery, rural Aurelia.  Visitation will be Monday, January 20th, from 5-7Pm at the church with the family present. The Redig Funeral Home in Aurelia is in charge of arrangements.
Viola Lorene Fierk was born May 24, 1923 in Aurelia, Iowa, the daughter of Albert and Lillie (Demarest) Fierk.  She attended school in Aurelia graduating from Aurelia High School in 1941. Following graduation she worked as a linotype operator for newspapers in Aurelia, Cherokee and Storm Lake.  On July 4, 1943 she was united in marriage to Edgar D. Allen at the Congregational Church in Aurelia.  They farmed north of Aurelia until 1959 at which time they moved into town in Aurelia.  Viola worked as a secretary for Harlan Mohn's law firm in Aurelia and at the Mental Health Institute Cherokee before becoming the Aurelia Jr. High/Elementary School Secretary until her retirement.   Edgar and Viola wintered in Arizona for 20 years following their retirement.
Viola was an active member of the First United Methodist Church in Aurelia.  She enjoyed golf, teaching the Windows operating system on computers and knitting; having knit over 100 custom Christmas stockings for family and friends.  Until recently she actively kept up with family and friends with her iPad texting, using Facebook and sending emails.
Viola passed away Wednesday, January 15, 2020 at Accura Healthcare in Aurelia.
Preceding Vi in death were her parents, her husband Edgar on November 20, 2010, one brother, Vernon Fierk and his wife Pauline, and three sisters; Ruth and her husband Arnold Faber, Mary and her husband Clyde Leeds, and Dorothy and her husband Annual "Simmy" Byerly, one brother-in-law, Russel his wife Kathleen Allen, and one sister-in-law, Celesta and her husband Dick Edwards.
Survivors include three children; Michael and his wife Judy Allen of Kingsley, Denise Twiford and her friend Kent Husted of Sioux City, and David and his wife Linda of San Antonio, TX.   Also surviving are nine grandchildren; Tara and husband Scott Sobek, Ben and wife Kerri Edwards, Jennifer Zimmerman, Shawn and wife Elizabeth Twiford, Chris and wife Faye Allen, Doug and wife Sherry Allen, Danielle and husband Fred Jackson, Alison Spangler, Kevin and wife Stevi Spangler, 18 great-grandchildren, 3 great great-grandchildren, many nieces and nephews and other relatives and friends.