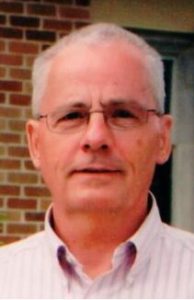 Funeral services for Eddie L. Benson, 72, of Aurelia, will be Saturday, January 4, 2020, at 11:00 A.M., at the St. Paul Lutheran Church in Aurelia, with Pastor Derek Evans officiating. Visitation will be from 5:00 to 7:00 Friday at the St. Paul Lutheran Church. A memorial fund has been established. The Redig Funeral Home in Aurelia is in charge of arrangements.
          Eddie Lynn Benson was born on October 3, 1947, in Cherokee, Iowa, the son of Clifford and Frances (Booth) Benson. He attended school in Aurelia and graduated from the Aurelia High School in 1966. Ed worked with his father at Benson Trucking. On January 20, 1968, he married Jeanine Rath at the St. Paul Lutheran Church in Aurelia. Later he operated Vans by Benson, owned and operated the Back Bar Steakhouse in Aurelia for 20 years, sold cars for Brown Chevrolet in Cherokee, and operated Benson Auto Sales at his acreage in Aurelia.
Ed was a member of St. Paul Lutheran Church, served on the Aurelia Volunteer Fire Department from April 13, 1970 until he retired on April 18, 1980. Ed purchased and remodeled many homes in Aurelia. He enjoyed his family and grandchildren, fishing, the Chicago Bears and the Atlanta Braves, Morningside College football, golf, restoring cars and other items, and took pride in his yard.
          Ed died Wednesday, December 31, 2019 at the Lakeside Hospital in Omaha, NE.
          Preceding Ed in death were his parents, two brothers; Larry Benson and Charles (CB) Benson, and one nephew, Mark Benson.
          Survivors include his wife Jeanine Benson of Aurelia, two sons; Chad and his wife Lisa Benson of Cedar Falls, IA, and their children; Tyler, Halle and Trevor, and Chris and his wife Karen Benson of Ft. Collins, CO, and their children; Jessica, Emilee and fiancé Jake Stander, and Gabrielle. Also surviving are one brother, Jimmie Rae and his wife Shelli Benson of Green, IA, two sisters-in-law; Jeanette (Moosie) Benson and Mavis Yunge both of Aurelia, his mother-in-law, Loretta Rath of Aurelia, four sisters-in-law and their husbands; Corinne and Jim Bengtson of Aurelia, Anne and Drew Coombs of Nunn, CO, Barb and Dan Huseman and Lisa and Mark Cmelik all of Aurelia, many nieces and nephews, and other relatives and friends.