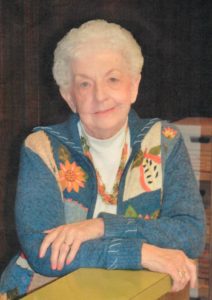 Funeral services for Joyce M. Cougill, 82, of Aurelia, will be 10:30 A.M. Friday, December 27, 2019, at the First Church of Christ in Cherokee, with Pastor David Hall officiating. Visitation will be Thursday, December 26, from 5:00 P. M. to 7:00 P.M. at the church. Burial will be in the Pleasant Hill Cemetery, rural Aurelia.
Joyce Marie Klumpp, the daughter of William Edward and Virginia Driscilla "Jennie" (Phelan) Klumpp, was born February 14, 1937, on a farm near Aurelia, Iowa. She was a genuine sweetheart. Joyce attended school in the Aurelia Community School District and graduated from Aurelia High School in 1954. Joyce was baptized on February 14, 1968, at the First Church of Christ in Cherokee, where she remained a member. Joyce spent the majority of her life in the Aurelia community.
Joyce married William Royce Cougill on September 30, 1956, at the Methodist Church in Webb, Iowa. Their first home was a trailer home as Royce worked road construction for Iowa Road Builders. In 1957, the couple returned to Aurelia where Royce worked for Carlson Texaco and drove truck at night for Benson Trucking. In 1959, Royce and Joyce purchased their permanent home in Aurelia. Royce and Joyce raised five children in this home: Debra Diane, Tamra June, Kimberly Kay, Brenda Joyce, and William Ryan. Joyce thoroughly enjoyed her children, grandchildren, and great-grandchildren. As time passed, she proudly took on the title of "Grandma Snow White." Joyce supported and assisted Royce in his many business adventures and provided a good home for her family. She especially enjoyed working with her flowers, attending activities of her children and grandchildren when possible, preparing for holidays, having her family come home for Christmas, and caring for her family and pets. She will be remembered for all of her hard work, her yummy mashed potatoes, and many other tasty dishes that she prepared for family and guests. She never knew a stranger; she could talk to anyone.
Joyce's work history included working as a bookkeeper for Howell Motor and J. I. Case Implement and later for Royce's Texaco and Cougill Trucking, all of Aurelia. When Royce had a heart attack in December of 1977, she baby-sat children in her home as he recovered. Her final employment was working for Jensen Insurance of Aurelia where she worked as a secretary for 31 years and retired on March 14, 2012. She always enjoyed working with the public.
Joyce died Saturday, December 21, 2019, at UnityPoint Health St. Luke's in Sioux City, IA.
Preceding Joyce in death were her parents, one grandson Spenser Nelson, three brothers; Ronald James Klumpp in infancy, Donald Klumpp, and Vernon Klumpp, and her sister Geraldine (Klumpp) Seggerman to whom she was close.
Left to cherish her memory are her husband Royce of Aurelia, her daughters: Debra and her husband Randy Galvin of Early, IA, Tamra and her husband Curt Nelson of Johnston, IA, Kimberly and her husband Matthew Warnke of Arnolds Park, IA, Brenda and her husband Frank Huseman of Manson, IA, and Bill and his wife Sheila Cougill of Early, IA; her grandchildren; Heath and wife Jenny Galvin of Grimes, Sara Nelson of Maquoketa, Tim and wife Ashley Galvin of Aurelia, Evan Huseman of Des Moines, Cody and wife Jana Galvin of Des Moines, Jonathan and his wife Shelby Nelson of Urbandale, Taylor and his wife Olivia Huseman of Milford, and Ryan Cougill and Jacob Cougill of Early, and her great-grandchildren: Avery, Aiden, and Hunter Galvin, Grant Nelson, Maddox, Kutler, and Kolby Galvin, and Sullivan Galvin. Also surviving are her sister Barbara Templeman of Holstein, four sisters-in-law; Elizabeth and husband John Tuttle of Cherokee, Bonnie and husband Gary Lewis of Aurelia, Juanita Graybill of Sioux City, and Peg Carsten of Whiting, and many nieces, nephews, and friends.