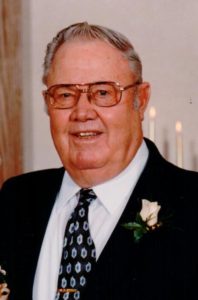 Funeral services for Robert L. Sorensen, Sr., 89, of Aurelia will be 10:00 A.M. Friday, May 24, 2019, at the First United Methodist Church in Aurelia, with Pastor Kim Dewey officiating. Burial will be in the Pleasant Hill Cemetery, rural Aurelia. Visitation will be on Thursday from 5:00 until 8:00, with the family present, at the First United Methodist Church in Aurelia. The Redig Funeral Home of Aurelia is in charge of arrangements. In lieu of flowers a memorial fund has been established.
Robert Laverne Sorensen was born March 13, 1930, the son of Fred and Audrey (Koehler) Sorensen at Cherokee, IA. He attended school in Sioux City. Bob served in the U.S. Army. He married Barbara Beckner and they had seven children. On December 6, 1969 Bob married Barbara (Rokes) Nilles in South Sioux City, Nebraska. Together they had one son, Robert L. "Bobby" Sorensen, Jr.
Bob spent most of his working years driving truck for Cliff Benson, Orlo Shank, and Maple Valley Woodshavings in Aurelia. He then retired from First Coop in Alta. Bob was a member of the First United Methodist Church in Aurelia. He enjoyed fishing, camping, and eating out. His greatest joy was spending time with his family.
Bob died Tuesday, May 21, 2019, at the Sunset Knoll Care & Rehab Center in Aurelia.
Preceding Bob in death were his parents, one daughter, Deborah, two sons; Robert Jr. "Bobby" Sorensen and Rodney Sorensen, and one sister, Donna Reed.
Survivors include his wife, Barbara of Aurelia, five children; Rick Sorensen of Sioux City, IA, and Ron (Clyde) and his wife Jodi Sorensen of Alton, IA, Rhonda and husband Doyle Cowell of Dickens, IA, Roxy and her husband Joe Rose of Redwood Falls, MN, and Ranae Steuk of Spencer, IA, and four step-children; Jim and his wife Amy Nilles of Merrill, IA, Dale and his wife Jan Nilles of Las Vegas, NV, Becky Nilles of Springdale, AK, and Ray Nilles of Cherokee, IA. Also surviving are nine grandchildren, fifteen step-grandchildren, thirty great-grandchildren, one sister, Barbara Sorensen of Sioux City, one brother, Fred Sorensen, Jr. and his wife Shirley of Primgahr, and one brother-in-law, Beryl Reed, nieces, and nephews.