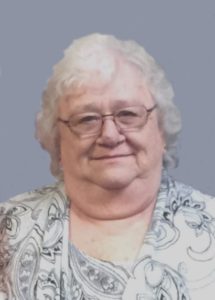 Funeral services for Joleen D. Bruce, 73, of Aurelia will be 10:30 A.M. Saturday, December 1, 2018, at the First United Methodist Church in Aurelia, with Pastor Kim Dewey and Pastor Missy Brown officiating. Burial will be at a later date. Visitation will be Friday from 4:00 P.M. until 7:00 P.M., with the family present, at the First United Methodist Church in Aurelia.
Joleen Deniece Rapp was born September 4, 1945, the daughter of Ervil and Gladyce (Stutz) Rapp in Aurelia. She graduated from the Aurelia High School in 1963. Joleen married Jerry L. Bruce on January 19, 1963 at the First United Methodist Church in Aurelia. Over the years Joleen worked as a school bus driver, as a cook at Sunset Knoll Retirement Home, operated an in-home day care, was a cook for the Aurelia School, worked at the Aurelia Day Care, and was the secretary for the First United Methodist Church. She retired in September of 2016. She was a member of the First United Methodist Church, U.M.W., Pythian Sisters, and at the Methodist Church she played the chimes, and assisted with Holy Cows and vacation Bible School. She enjoyed quilting, sewing, crocheting, knitting, golf, and cooking and baking. She loved spending time with her kids, grandkids, and great-grandkids.
Joleen died Tuesday, November 27, 2018, at the Buena Vista Regional Medical Center in Storm Lake, Iowa.
Preceding Joleen in death were her parents, Ervil Rapp and Gladyce Rapp-Cram, her step-father, Duane Cram, two brothers; Darrel Rapp and Kenneth Rapp, two brothers-in-law; Dayton Hunter, Dennis Bruce, and  parents-in-law Cliff and Florence Bruce.
Left to cherish her memory are her husband Jerry Bruce, four children; Tammy and her husband Pat Jones of Fairfield, IA, Deloy and his wife Wendy Bruce of Sioux City, IA, Darin and his wife Angie Bruce of Aurelia, and Trish and her husband Rusty Tracy of Sahuarita, AZ. Also surviving are eleven grandchildren; Tyler and wife Chaella Youde of Omaha, NE, Morae and husband Karl Metcalf of Birmingham, IA, Jacob and wife Ashley Bruce of Cherokee, IA, Jared and wife Molly Bruce of Spirit Lake, IA, Seth and wife Maribeth Bruce of Sioux City, Aaron Bruce of Estherville, IA, Lindsey and husband Gary Reicks of Ankeny, IA, Courtney Bruce of Aurelia, Samantha Tracy, Cole Tracy and Baylie Tracy all of Sahuarita, AZ, seven great-grandchildren; Avery, Grady, Cully, Pacey, Nolan, Landon and Lucan, one sister, Susan Hunter of Rockford, IL, one brother, Terry and wife Susan Rapp of Phoenix, AZ, two sisters-in-law; Myrna Rapp of Ecuador, and Bobbie Rapp of St. Cloud, MN, two brothers-in-law, Danny and wife Kathy Bruce of Vacaville, CA, and Terry and wife Sylvia Bruce of Marion, IA, and other relatives and friends.