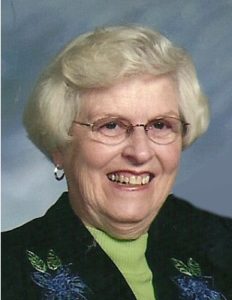 Funeral services for Joan Brownmiller, 83, of Shawnee, Kansas, formerly of Aurelia, will be Tuesday, July 10, 2018, at 10:30 A.M., at the St. Paul Lutheran Church in Aurelia, with Pastor Derek Evans officiating. Burial will be in the Pleasant Hill Cemetery, rural Aurelia. Visitation will be Monday from 4:00 P.M. until 7:00 P.M., with the family present, at the church. The Redig Funeral Home in Aurelia is in charge of arrangements. A memorial fund has been established.
Joan Marlene Huseman was born on August 14, 1934, the daughter of Martin and Lucille (Allen) Huseman at Galva. At the age of six months, her mother passed away suddenly. It was during this time that Joan went to live with relatives and formed a very special bond with her cousin, Lorene (Woghan) Heimsoth. At the age of five, when her father married Gladys Jacobson, she went to live with her father and loving new mother, Gladys. She was baptized and confirmed in the Lutheran faith in Galva, Iowa.
She enjoyed being a cheerleader and was a member of the first six on six Aurelia Atoms girls' basketball team. She graduated in 1951 from Aurelia High School.
On June 3, 1951 Joan married Harold Brownmiller, Jr. at the St. Paul Lutheran Church in Aurelia. To this union, two children were born, Roxy and Steve. For many years, Joan was the secretary for the Superintendent, and then the School Board, retiring in December of 1995. She was a member of the St. Paul Lutheran Church in Aurelia. Joan was a collector of Barbie dolls and all things Christmas. She will always be remembered for her annual Christmas open house. She loved visiting with her friends and family, enjoying their activities and sporting events. Joan and Junior were always proud supporters of Aurelia.
Joan died Friday, July 6, 2018 at Brookdale of Rosehill in Shawnee, Kansas.
Preceding Joan in death were her parents, Martin, Lucille and Gladys, her husband Harold, Jr. on April 5, 2012, one sister, Beverly and husband, Art Soellner, and brother-in-law, Francis "Red" Brownmiller.
Survivors include one daughter, Roxy and her husband Bob Richard of Shawnee, KS, and one son, Steve and his wife Kathy Brownmiller of Denison, IA. Also, surviving are eight grandchildren; Erin and husband Keith Mann, Sean Richard, Lindi and husband Brian Dugan, Brien and husband Mike Kennedy, Megan and husband Mike Wilbur, Dan Berens, Sean and wife Cassie Berens, and Carter and wife Ivett Berens; ten great-grandchildren: Delaney, Ryleigh, Avery, Piper, Presly, Hayden, Lucy, Chase, Tyler, and Alex; one brother, Gilbert and his wife Sharon Huseman of Muscatine, IA, one sister, Lucille and her husband Duane Kent of Aurelia, one brother-in-law, Roger and his wife LaVonne Brownmiller of Mason City, IA, two sisters-in-law, Gayle Brownmiller of Aurelia, and Carolyn and her husband Bob Meyer of Naples, FL, many nieces and nephews, and other relatives and friends.