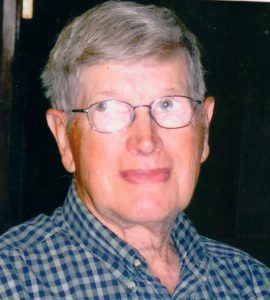 Funeral services for Albert W. Glienke, 95, of Aurelia, will be Thursday, June 28, 2018, at 10:30 A.M., at the St. John Lutheran Church in Hanover, with Pastor Ryan Roehrig officiating. Burial will be at the Church Cemetery. Visitation will be from 5:00 to 7:00 Wednesday at the St. John Lutheran Church in Hanover. The Redig Funeral Home in Aurelia is in charge of arrangements.
          Albert William Glienke was born on April 6, 1923 five miles south of Alta, IA, the second son of Herman and Marie (Hinkeldey) Glienke. He attended St. John Parochial School until he was confirmed.  Albert was united in marriage to Marilyn Jean North on November 17, 1949 at the Presbyterian Church in Denison, Iowa.  They are the parents of David, Terry, Julie and Lacey.  He farmed and fed cattle in Diamond Center Township south of Aurelia all his life. Albert was a lifelong member of St. John Lutheran Church in Hanover.  He enjoyed his family, reading, playing cards, Nascar races, and visiting with relatives and friends.
          Albert died Sunday, June 24, 2018 at the Methodist Manor Retirement Community in Storm Lake, IA.
          Preceding Albert in death were his parents, daughter, Julie and her husband Robert Lyons, one brother, Henry Glienke, four sisters; Emma Glienke, Esther Lussman and her husband Harold, Lydia Christensen and husband Harold, and Alvina Schmidt, and two brothers-in-law; Lyle Lichtenberg and Dwaine Hinkeldey. 
          Survivors include his wife Marilyn of Storm Lake, three sons;  David of Alta, Terry and his wife Rhonda of Cherokee, and Lacey and Tami of Aurelia,  nine grandchildren; Mark and his wife Keila Glienke, Scott and his wife Alisa Glienke, Jeffrey Glienke, Molly and her husband Aaron Tucker, Amy and her husband Mitch Loucks, Matthew Glienke, Tessa and her husband Jacob Doerkson, Jacob Glienke, and Maxwell Glienke,  fourteen, great-grandchildren; Dalton, Alyssa, Tyler, Chayce, Jack, Jordyn, Camryn, Makaelyn, Tayven, Daenon, Zachary, Zoey, Jovi and Eve.  Also surviving are three brothers; Ernie and his wife Beverly Glienke of Aurelia, Herman and his wife Delores Glienke of Miami Springs, FL, Martin and his wife Jeanne Glienke of Alta, two sisters; Dorothy Hinkeldey and Marie Lichtenberg both of Alta, sister-in-law, Lorraine Glienke of Alta, and brother-in -law, Willard Schmidt of Alta, many nieces and nephews, and other relatives and friends.