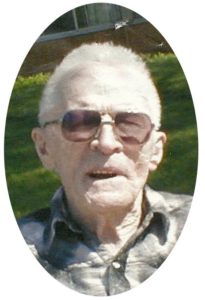 Graveside services for Leslie Banister will be held Tuesday, April 10, 2018,at 11:00 a.m. at the Pleasant Hill Cemetery, rural Aurelia, with Pastor Bruce Rapp of the First Congregational Church in Aurelia officiating. There will be no visitation. The Redig Funeral Home of Aurelia is in charge of arrangements.
Leslie A. Banister was born November 7, 1916, the son of George and Lulu Banister at Sutherland, IA. He was inducted into the Army on January 1, 1942 at Fort Dodge, IA, and was honorably discharged on October 22, 1945 at Sheppard Field, TX, having received the rank of Corporal. On December 30, 1950 Les married Marcella Evelyn Hanno in Cherokee, IA. They farmed and he worked grinding grain for many area farmers.
Les died Friday, April 6, 2018, at the Sunset Knoll Care & Rehab Center in Aurelia.
Preceding Les in death were his parents, his wife Marcella on March 27, 2007, their son Bruce Banister, two brothers; Nathan and Vern Banister, and one sister, Gladys Johnson.
Survivors include one grandson, Scott and his wife Cyan and two great-grandchildren of California.