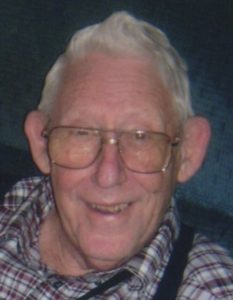 Robert R. Satterlee, age 88, formerly of Hessville, entered into eternal rest Saturday, February 10, 2018.
Survived by one daughter, Joanne (Warren) Hedrick; three sons: Rick (Diane) Lincoln, James (Tomasina) Satterlee, Robert (Cheryl) Satterlee; many grandchildren and great grandchildren.
He is preceded in death by his loving wife of 37 years, Jean L. Satterlee and parents: Burdette Albert and Mary Margaret Satterlee.
Friends are invited to meet with the family on Tuesday, February 13, 2018 for visitation from 2-7 p.m. at Bocken Funeral Home 7042 Kennedy Ave. Hammond, (Hessville). Graveside burial will take place on Friday, February 16, 2018 at Pleasant Hill Cemetery in Aurelia, Iowa.
Robert was a resident of the Hessville area since 1960; He was retired from Burgers Supermarket where he was the bakery manager. He enjoyed wood working, camping and spending time in the outdoors. Robert was a loving husband, father and grandfather.