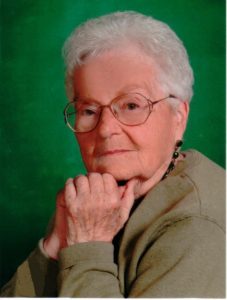 Funeral services for Myrna J. Huseman, 90, of Aurelia, will be Thursday, August 17, 2017, at 10:30 A.M., at the St. Paul Lutheran Church in Aurelia, with Pastor Jon Riggert officiating. Burial will be in the Pleasant Hill Cemetery, rural Aurelia, at a later date. Visitation will be Wednesday from 4:00 P.M. until 7:00 P.M., with the family present, at the church. The Redig Funeral Home in Aurelia is in charge of arrangements.
Myrna Jean Grienke was born on September 20, 1926, near Aurelia, the daughter of Herbert and Christina (Gerjets) Grienke. She attended Aurelia School, graduating in 1944. After her graduation she attended AIB for one year, then worked in Des Moines at the State House for the Department of Agriculture. On May 1, 1947 Myrna married Dorrel Adair Huseman, who had returned from service. Six children were born to this union. Myrna was a member of the St. Paul Lutheran Church in Aurelia, where she was a very active member. She enjoyed playing Bridge, drinking coffee, selling antiques and doing antique shows, and was an avid reader. She liked to attend her children's and later grandchildren's activities.
Myrna died Monday, August 14, 2017 at the Sunset Knoll Care & Rehab Center in Aurelia, IA.
Preceding Myrna in death were her parents, her husband Dorrel in 1980, two sisters, Darlene and husband Cliff Menefee, and Betty Anderson.
Survivors include six children: William and his wife Rose Marie Huseman of Norman, OK, Kimberly Huseman of Aurelia, Dan and his wife Barb Huseman of Aurelia, James Huseman of Storm Lake, Ben Huseman of Aurelia, and Frank and his wife Brenda Huseman of Manson. Also surviving are seven grandchildren: Melissa and husband Dennis D'Annunzio, Tom and Josephine Huseman, Neil Huseman, Amy and husband Derrick Elman, Erin and husband Scott Patton, Evan Huseman, and Taylor and wife Olivia Huseman, nine great-grandchildren: Aaron and Nate D'Annunzio, Cole, Max and Kai Huseman, Payton and Noah Elman, and Kyler and Brynn Patton, one brother-in-law, Jerry Anderson of Aurelia, one sister-in-law, Marjorie and husband Ron Neulieb of Alta, nieces and nephews, and other relatives and friends.