ELIZABETH (BETTY) M. REDIG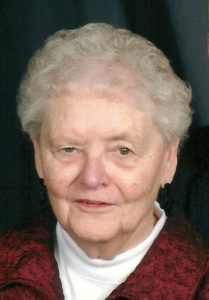 Mass of the Christian Burial services for Elizabeth (Betty) Redig, 89, of Storm Lake will be 10:30 A.M. Thursday, August 3, 2017, at the St. Mary's Catholic Church in Storm Lake, with Father Timothy Friedrechsen officiating. Burial will be in the Storm Lake Cemetery, Storm Lake, IA. Visitation will be Wednesday, from 4:00 P.M. until 7:00 P.M., at the KC Hall in Storm Lake. The Redig Funeral Home in Aurelia is in charge of arrangements.
Elizabeth Marie (Betty) Pedersen was born January 24, 1928, in Waukegan, IL, the daughter of Christen Jensen and Pearl Sena (Davenport) Pedersen. She attended school in Libertyville, IL, until the family moved to Newell in 1934, graduating from the Newell Providence School in 1946. Betty then attended Buena Vista College where she lived with Dr. R.R. and Mrs. Hansen, and later Cliff and Alma Sliefert.  She quit college to become a telephone operator for Northwestern Bell in Storm Lake.  On September 27, 1948 she was united in marriage to Melvin Anton Redig at the St. Mary's Rectory. From then on Betty was affectionately known to close family as "Queenie".  The couple made their home on East Lakeshore Drive for the next 68 years, where she always loved her view of the lake.  Betty was an active person playing basketball in high school, after her marriage she enjoyed golfing having obtained a hole in one on May 5, 1980, bowling, playing volleyball, watching the Iowa Hawkeyes, and she especially enjoyed playing cards with friends and family. Betty was into the latest technology, and boy, did she love a parade! Her routine included coffee with the girls in the morning and an afternoon Coke with friends. One of the highlights of her week was getting her hair done.  She was a loving and devoted wife, mother, a doting grandmother and great-grandmother. Betty was usually in charge, if something didn't suit her fancy her reaction was called "going Dane". She was a 68 year member of St. Mary's Catholic Church where she sang in the Funeral Choir for several years.  She played golf at Lake Creek as long as her health permitted.
Betty died Sunday, July 30, 2017, at Methodist Manor in Storm Lake, where she had been a resident for 15 days.
Preceding Betty in death were her parents, son-in-law, Rick Hilbert, brother, Paul Pedersen, sister, Marian Kinney, and one sister-in-law, Vie Pedersen.
Surviving Betty are her husband Melvin Redig of Storm Lake, one daughter, Marcia Hilbert of Manchester, IA, two sons; Randy Redig of Newell, and Roger and his wife Pat Redig of Aurelia, six grandchildren; Amy and husband Brad Pohlman of Urbandale, IA, Nicolle and husband Eric Rubendall of Wilmington, NC, Mandy and husband Trevor Shannon of Burnsville, MN, Sarah Hilbert and spouse Donna Lancaster of St. Paul, MN, Rachel and husband Simon Williams of Carroll, and Roman Redig of Aurelia, nine great-grandchildren; Alyssa and Ben Pohlman, Andrea and Asher Shannon, Braeden, Dory and Finley Hilbert, and Erica and Riley Williams. Also surviving are one brother, Jim Pedersen of Sierra Vista, AZ, one sister-in-law, Donna Pedersen of Rock Valley, IA, and nieces and nephews, and other relatives and friends.