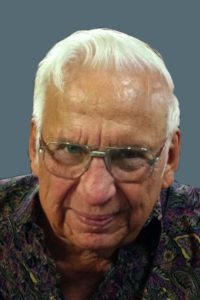 Funeral services for George Cowell, 88, of Storm Lake, will be 10:30 A.M. Tuesday, July 25, 2017 at the K.C. Hall in Storm Lake with Pastor Missy Brown officiating. Burial will be in the Storm Lake Cemetery. Visitation will be Monday from 4:00 P.M. until 7:00 P.M., with the family present, at the K.C. Hall. The Redig Funeral Home in Aurelia is in charge of arrangements.
George William Cowell was born September 24, 1928, the son of David Hildreth and Wilma Merle (Melcher) Cowell on the family farm at rural Monona, IA. He attended Big Foot country school in Linton Township, and Waterville High School, graduating in 1946. He worked on the family farm with his father, helping other area farmers as needed. On November 2, 1952 George married (Betty) Joanne Welsh at the Evangelical United Brethren Church in Monona. Thirteen months after they were married George entered the Army. While he was stationed at Monterey, CA, she joined him there for several months and when he went overseas she returned to Monona. After his honorable discharge in November of 1955 they farmed north of Monona with his parents, then at Oelwein, IA, and Neillsville, WI, before returning to the family farm. They moved to Cedar Rapids in 1965 and George went to work for Link-Belt Speeder where he worked for almost 20 years before the plant closed. He then worked for Jim Young Janitorial and later at United Fire and Casualty in maintenance. They remained in Cedar Rapids until 1987 when they moved to Storm Lake where he worked maintenance for the United Methodist Church. Family was everything to George and Jo, opening their home to many of their kid's friends who also called them Dad and Mom. After retiring from the church he went to work part-time for Merrill Manufacturing in Storm Lake where he worked for 20 years, retiring in 2015 at age 87. George was thrilled to have taken the Honor Flight to Washington D.C. in September of 2015. He loved his family, enjoying his children, grandchildren, great-grandchildren, and all those that called him Grandpa. George was an avid card player, enjoyed reading and watching westerns, loved his garden, and had a lifelong love for baseball. He loved to fish, and shared his apple butter with anyone he came across. His role as the family historian was something he cherished and he was always pleased to share the past with those in the present.
George died on July 21st, 2017 at the Sunset Knoll Care and Rehab Center in Aurelia.
Preceding George in death were three infant sisters; Mae, Gloria, and Maxine, his parents, his wife Jo on January 22, 2011, two brothers; Duane and Bruce Cowell, and one nephew, Dwight Cowell.
Those left to cherish his memory include one daughter, Pat and her husband Roger Redig of Aurelia, and one son, Tom Cowell of Storm Lake. Also surviving are his grandchildren, Rachel and husband Simon Williams, Roman Redig, Leah and husband Alex Newman, Simon Cowell, Thomas Cowell and Jazmine Ring, Anna Cowell, and Lakota Cowell. Also surviving are six great-grandchildren; Erica and Riley Williams, Kellan Cowell, and Chael, Chandler, and Camryn Newman, one sister, Marcella and her husband Kenneth Wendel of Postville, IA, one sister-in-law, Carol and her husband Dan Schroeder of La Crosse, WI, nieces and nephews, and other relatives, friends and neighbors.