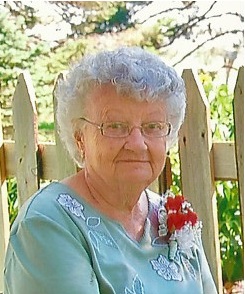 Funeral services for Tena Mae Galvin, 88, of Aurelia, will be Friday, November 11, 2016, at 1:30 P.M., at the First United Methodist Church in Aurelia, with Pastor Thomas Petersen officiating and Nelva Petersen CLS. Visitation will be Thursday from 4:00 P.M. until 8:00 P.M., with the family present from 6:00 to 8:00, at the First United Methodist Church. Burial will be in the Pleasant Hill Cemetery, rural Aurelia. The Redig Funeral Home in Aurelia is in charge of arrangements.
          Tena Mae Fox, beloved wife, mother, grandmother, great-grandmother and friend was born on May 4, 1928 to Clyde and Geneva (Sexton) Fox at their farm northeast of Aurelia. She went to Afton country school for eight years and then attended the Aurelia High School where she graduated with the class of 1946. After graduation she was employed as the secretary to the school superintendent.
On June 8, 1947 she was united in marriage to Charles Galvin, Jr. at the Aurelia Methodist Church.  Tena Mae and Charlie were blessed with four children: Mike, Cindy, Jack and Ted. She spent her time being a homemaker, taking care of her family and helping Charlie with their farming operation. She spent many happy hours sewing for her family, raising chickens and planting gardens.
In 1983 she and Charlie semi-retired and moved to their home in Aurelia. She worked at the House of Yours and Colleen's Clothes Closet for a number of years. She was an enthusiastic shopper and was always on the hunt for her next favorite "pocketbook".
          Her greatest joy came with the arrival of grandchildren and later, great-grandchildren. She loved when they came to visit and when needed, she also babysat. Many of the great-grandchildren treasure baby quilts embroidered by her.
          She was a lifelong member of the Aurelia Methodist Church, a 4-H member in her youth and after her marriage, a member of Diamond Doers neighborhood club, and at church the UMW and Martha Circle.
          Tena Mae was widely known as the record keeper of the family. She filled notebook after notebook of family facts. Her scrapbooks are an archive of Aurelia history kept by her from early years to the present day. If you wanted information or some history, Tena Mae could usually supply the answer.
          She and Charlie were faithful members of their Pinochle club since 1949, and she could always be counted on to help organize their high school class of '46 reunions. She enjoyed reading, jigsaw puzzles, crochet, embroidery, knitting and most recently, adult coloring books.
          Tena Mae gave up her earthly life on Tuesday, November 8, 2016, at the Sunset Knoll Care and Rehab Center in Aurelia, Iowa, after a brief illness. She was 88 years, 6 months, and 4 days old.
Pallbearers are her eight grandsons: Jeremy, Dwight, Neil, Brian, David, Chris, Josh and Marcus. Honorary pallbearers are her three granddaughters: Janine, Heather and Miranda.
          Tena Mae was preceded in death by her parents, her sister, Louise Bugh, her brother, Bill Fox, and a special uncle, Estle Sexton.
          She is survived by her husband Charles, her daughter, Cindy and Larry Jerge of Spirit Lake, and three sons: Mike and Karen Galvin of Galva, Jack and Nancy Galvin of Aurelia, and Ted and Sonia Galvin of Cherokee, her beloved grandchildren: Janine and Dave Baker of Scotland, SD, Brian and Moira Galvin of Bothell, WA, David and Kay Galvin of Charter Oak, Chris and Jenna Galvin of Aberdeen, SD, Dwight and Jackie Jerge of Spirit Lake, Heather and Heng Ung of Sioux City, Jeremy and Jennifer Galvin of Ames, Neil and Maranda Galvin of DeForest, WI, Josh and Amy Galvin of Cedar Falls, Miranda Galvin of Sioux City, and Marcus Galvin of Iowa City. Also surviving are her cherished great-grandchildren: Nicholaus, Allisyn and Keegan Baker, Mackenzie and Avery Galvin, Madison Young, Marissa, Owen, Anna and Chloe Galvin, Lucas, Charlee, Jonah and Maddy Galvin, Emma and Ethan Jerge, Ming, Lucy and Tao Ung, Annie, Lillie and Ben Galvin, Sam and Eli Galvin, Jay, Anthony and Mya Galvin and CJ Galvin, sister-in-law Norma Fox of Aurelia, many brothers-in-law and sisters-in-law, nieces, nephews, and many, many friends.