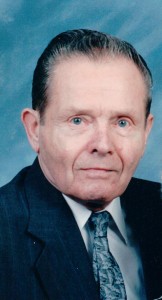 Robert Theodore Bengtson, 79 of Aurelia, died Tuesday, November 22 at Cherokee Regional Medical Center.  Services will be at 10:30 a.m. Tuesday, November 29, at The First United Methodist Church in Aurelia with the Pastor Tom Petersen officiating.  Burial will follow in the Pleasant Hill Cemetery. Visitation will be held on Monday, November 28, from 4-7, with the family present from 5-7 at the church. 
Robert Theodore Bengtson was born on July 17, 1937 in Cherokee, Iowa to Clifford and Lenora (Johnson) Bengtson.  He was baptized and confirmed at the Bethlehem Lutheran Church in Cherokee.  He attended school and graduated from Aurelia High School in 1955.  He enlisted into the U. S. Navy in July, 1955.  He spent 12 weeks at the Great Lake's Basic Training Camp in Chicago, Ill., 2 years at the Cabaniss Naval Air Base in Corpus Christi, TX and 2 1/2 years in Iwaknui, Japan at the Marine Air Base.  This is where he met Haruko (Linda) Mita.  Robert and Linda were married at the Japanese Counsolet in Fukukoa, Japan on November 4, 1958.  To this union three daughters were born Janet, Rhonda and Lisa.  Robert was honorably discharged from the U. S. Navy at Oakland, CA. on March 9, 1960.  Robert was a third class Yeoman, a pencil pusher by trade.  He was one of the lucky sailors that never stood a watch, inspection or marched in a parade.  Robert was hoping that he would be able to start farming but 1960 was not the year for that.  He helped his dad plant the corn that spring and then started his forty year tenure at the Farmers Cooperative Company in Aurelia.  He was the bookkeeper, office manager and asst. manager until the elevator merged with 16 other elevators which became the First Cooperative Association, Cherokee.  When the merger took place Robert held the position of bookeeper and grain manager.  
Robert was a member of the First United Methodist Church in Aurelia, IA. where he served as Chairman of the Administrative Counsel, usher, Chairman of the Finance Committee for many years, and served on the fall harvest dinner committee for 27 years.  He served on the City's Planning and Zoning Board of Adjustment, he was a Volunteer Firefighter for the Aurelia Fire Dept. for 18 years serving as secretary of the Fire Dept. and Secretary of the Rural Fire Board, Aurelia Golf Board Secretary/Treasurer for 3 years, member of the American Legion post 390 from 1960 to present year and served as adjutant for 2 years.
Robert loved playing golf, attending his grandchildren's school and sports activities, loved to travel and most of all he loved taking his whole family on vacation trips. These trips consisted of many road miles across the states exploring 14 plus states. A few of Robert's favorite highlights of these vacations was when his grandson had the ESPN Zone downtown Washington DC put Happy Birthday Bob on a huge neon sign and he loved following his grandson for 2 years in a row in the Cal Ripken 10-11 year old baseball world series.  He truly enjoyed spending time with his family.
Robert is survived by his wife, Linda, of Aurelia, three daughters, Janet McCarthy and her fiance Aaron Blenderman of Sioux City, Rhonda Jensen and her husband Kelley of Aurelia, Lisa Benson and her husband Chad of Cedar Falls, and five grandchildren, Ryan McCarthy, Tyler Benson, Jennifer Jensen, Halle Benson and Trevor Benson, and a sister Darlene Moss and her husband Frank of Sioux City, and many cousins, nieces and nephews.
Robert was preceded in death by his parents, grandparents, infant brother Dennis, sister Carolyn Catania and brother-in-law Gary Catania.